One Night with the Sheikh by Kristi Gold: Gifted author Kristi Gold spins a tale of unrequited love between a king and a commoner. One Night with the Sheikh will hold you in its clutches with its exotic location and authentic characters. This is romance at its finest.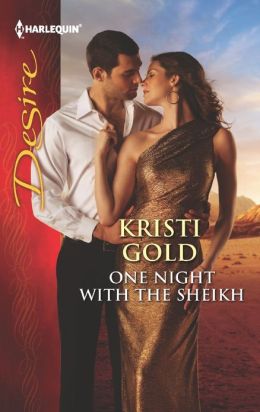 Six months ago King Rafiq Mehdi lost his wife and unborn child in a horrific car accident. Rafiq has been in deep mourning and feels tremendous guilt over their deaths. When his brother comes to him and suggests that he needs to take a break and get away for a while, Rafiq decides that he is right.
His brother also thinks that it is a good idea for Rafiq to get in touch with former friend and lover Maysa Barad. It has been ten long years since Rafiq has seen Maysa, but she has never been far from his thoughts. Taking his brothers advice, Rafiq decides to pay a visit to Maysa.
Maysa is very surprised to see Rafiq after so many years apart. It doesn't take long until the two realize that they still have feelings for one another. But Maysa has been through a terrible divorce where she was the victim of abuse and she has a hard time opening up to Rafiq.
As the king, Rafiq is expected to marry within his class and a divorced woman is considered taboo in his country. Will it be possible for these two to overcome the obstacles that stand in their way in order to find the love that they both desire?
I enjoyed Rafiq's character very much. As the king, I expected him to come across as a demanding, controlling person, but that was not the case. He is always gentle with Maysa and he helps her to overcome the fear that she still feels from the abuse that she suffered at the hands of her ex-husband.
Maysa is full of strength and courage. She single-handily removes her self from a destructive marriage, then she puts herself through medical school. I admired her willingness to help the underclass citizens of her country with medical care. Maysa deserves the love of a good man and it is great to see her get her man.
If you're looking to be swept away by a sigh-worthy romance, then you should definitely give One Night with the Sheik a try. Kristi gold will entertain you with her masterful writing skills. This is another one for the keeper shelf!
Book Info

Publication Date: July 1, 2013 | Series: Harlequin Desire (Book 2244)
"I Have Never Forgotten That Night."
Once, he'd chosen duty over love. Now, to escape his guilt and grief, widower King Rafiq Mehdi searches out the comfort of his old flame Dr. Maysa Barad. Her passionate surrender makes him realize that Maysa is the woman he should have married. Instead, his marriage of convenience brought nothing but pain and heartbreak. Maysa—beautiful, devoted, compassionate—is now considered too independent to be a sheikh's bride. Rafiq may be ready to defy his kingdom to have Maysa this time, but the truth about Maysa could turn Rafiq's world upside down….