Only with You (The Best Mistake #1) by Lauren Layne is a funny, sexy, sweet, laugh out loud, romance. It grabs you from the first page, and leaves you feeling giddy. Sophie and Gray are two very likable very different characters, but in this story, they just seemed to fit.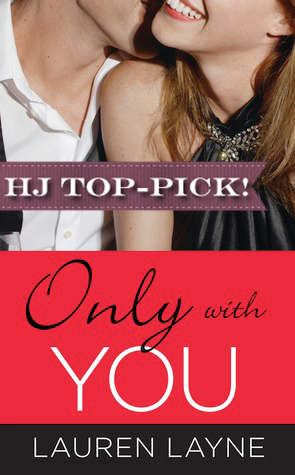 Sophie Dalton, former law student, former poly-sci major, current Cocktail Waitress, knows that she wants to change her life. While in Vegas for her cousins bachelorette party, she is mistaken for a hooker and things just seem to spiral out of control for poor Sophie after that. Always compared to her successful older sister Brynn, always the disappointment of the family, Sophie has confidence issues. And to make matters worse, the man who gave the striking blow, mistaking her for a hooker, just showed up at her parents house for dinner as Brynn's date.
Grayson Wyatt, introvert, shy, quiet, lonely, has a hard time connecting with people. He wants to try an change, but does not know how. After being burned by an ex-fiance, he is not looking for love, does not see himself as the marring kind, and is totally shocked to once again see Sophie. There is something about her that Gray cannot shake. When through a series of unfortunate events, Gray and Sophie are forced to work together, these two need to find common ground fast before they kill each other, or kiss each other silly.
What I loved about Sophie was her quick wit, her snappy comebacks and the fact that she will not back down from a challenge. Tough on the outside, it is her feeling of self doubt, her lack of confidence in her choices that really endeared her to me. Now Gray, I really felt sorry for him. At first he comes off pompous, but as the story progresses and you find out more about his childhood and the situation with his ex, you really begin to feel sorry for him, to want he and Sophie to get together and heal the wounds that they try so hard to hide.
I truly enjoyed this wonderful story and was sighing by the end because of such a sweet and touching HEA. I would recommend this story to anyone that loves a sweet, sexy, silly HEA. I loved this book so much, I give it 5 sexy stars.
Book Info:

Published July 29th 2014 by Forever | (The Best Mistake #1)
Love is the Biggest Gamble of All . . .
Cocktail waitress Sophie Dalton doesn't exactly have a life plan. She's perfectly happy being everyone's favorite party girl. But when a Las Vegas bachelorette party goes awry and an uptight businessman mistakes Sophie for a prostitute . . . well, Sophie wonders if it's time to reevaluate her priorities. Swearing off her thigh-high boots for good, Sophie slinks back home with damaged pride-and a jackpot of a hangover.
Yet what happens in Vegas doesn't always stay there. On a trip to Seattle to open a new office, Grayson Wyatt meets his latest employee-who turns out to be the same woman he recently called a hooker. Wealthy and gorgeous, Gray is a man used to getting what he wants. And it doesn't take long to figure out that smart, sassy, sexy Sophie is everything he's been looking for. As their late nights at the office turn into hot morning-afters, they realize their Vegas misunderstanding may lead to the real thing . . .