In Wild Iris Ridge (Hope's Crossing #7) by RaeAnne Thayne, Firefighter Brendan Caine's life was devastated when his wife Jess suddenly passed away. He's spent the better part of two years fighting his way out of that darkness, trying to give his children Carter and Faith as normal a childhood as possible. So when Jess's cousin Lucy Drake comes back to Hope's Crossing unexpectedly, Brendan prays it won't throw his life into more upheaval. Not when he's just now finding his way. Their past is a bit complicated, thanks to a searing kiss they shared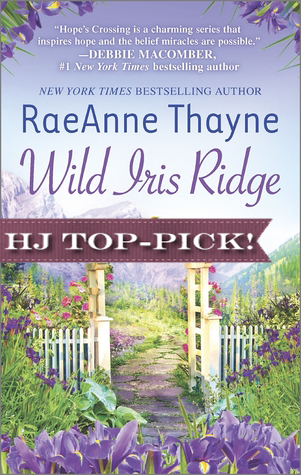 one night, before he met Jess. The animosity they've felt toward each other over the years changes into that of sexual tension, and suddenly Brendan has no idea what on earth he should do about it.
'The fact remained that he was beginning to care about Lucy, to feel things for her he hadn't thought he would for any other woman. It scared the hell out of him, but there it was.'
Lucy Drake lived in Hope's Crossing at her late aunt's Iris House as a teenager during one of the most difficult times in her life. Now she's back, having lost her high powered executive job in Seattle. While Lucy contemplates her next career move, she shows the faltering Iris House some much need TLC. Her neighbor down the street just so happens to be her late cousin Jess's husband, Brendan. Losing her best friend still bothers Lucy greatly. But she adores Carter and Faith, and being so close allows her to enjoy their company. If only it wasn't so awkward between herself and Brendan. Especially when she realizes her feelings for him from so many years ago haven't subsided, but instead have come back with a vengeance.
'Unfair, she thought again. How on earth was any woman supposed to resist a big, tough firefighter who could talk sweetly to a tiny puffball of a puppy–and even more sweetly to his children?'
Wild Iris Ridge is a contemporary romance that hit all of the right spots for me: Unrequited love? Check. Small town appeal? Check. Smart & sassy leading lady? Check. Hunky-but-sweet alpha male? Check, check, and double-check!!
"I love you. I have loved you forever. You asked me to wait and I will. Take as long as necessary. I don't care. I just…I need you."
Brendan and Lucy's story is my favorite (so far) in what I've read of the Hope's Crossing series. Seeing these two people come out of the depths of their grief and find love with one another was just magical. The emotions author RaeAnne Thayne was able to wring out of me while I followed their path to love ran the gamut from happiness to sorrow to anger and everything in between. Even the secondary characters more than held their own here. I especially loved Brendan's father Dermot. What a wonderful guy. The talk he and Brendan had toward the end of the book was so very touching. And tear-inducing, I might add. *sniff*
There are so many things I want to mention, but I don't want to spoil it for everyone. I will say that Lucy's life ends up coming full-circle when it comes to her family and her childhood. In a good way. Both she and Brendan are in essence starting over. She with her career ending, and him with the loss of his beloved wife. But that crazy night when they shared a kiss has niggled at the back of their minds for years. And I think that right there is what drew me in to the story. Aside from the incredible town and Brendan's cute-as-a-button kids, of course. I liked the the idea of Lucy and Brendan getting a chance to see if there really was anything between them…if that connection they felt over a decade ago could have possibly blossomed into something more. And, oh, was there a lot more!
If you're as much of a fan as I am of second chance romances, I highly recommend reading Wild Iris Ridge. RaeAnne Thayne is only getting better with each book she offers us in this series.
Book Info:

Published June 24th 2014 by Harlequin HQN
Lucy Drake and Brendan Caine have only one thing in common…
And it's likely to tear them apart. Because it was Brendan's late wife, Jessie—and Lucy's best friend—who'd brought them together in the first place. And since Jesse's passing, Brendan's been distracted by his two little ones…and the memory of an explosive kiss with Lucy years before his marriage. Still, he'll steer clear of her. She's always been trouble with a capital T.
Lucy couldn't wait to shed her small-town roots for the big city. But now that she's back in Hope's Crossing to take care of the Queen Anne home her late aunt has left her, she figures seeing Brendan Caine again is no big deal. After all, she'd managed to resist the handsome fire chief once before, but clearly the embers of their attraction are still smoldering…