Are you ready for lots of laughs, lovin' and adorable animals? Otterly Irresistible by Erin Nicholas is her awesome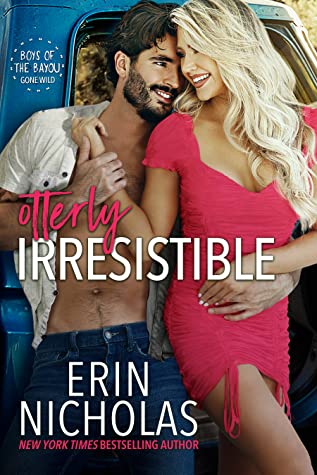 first book in the Boys of the Bayou Gone Wild series. I loved everything about this book.
Charlotte "Charlie" Landry didn't grow up in Autre, Louisiana with her Landry cousins but she did spend summers there. So she did participate in some of the wild, crazy Landry hijinks. Her goal in life though was to join or run a successful business that also gives to the community. That's what she was hoping for when she took the marketing position for the cosmetic company in Paris. Then she got herself fired for keying the CEO's son' Porsche. She had a good reason for her actions but, even so, she got fired.
Now she is the marketing consultant for the family's Boys of the Bayou business. She needs the job to pay $10,000 restitution for the specialty paint job on the jerk's Porsche. Only the Landrys would place bets on why Charli got fired. I loved seeing who the winner of the bet was. The plus side with this situation is that she gets to be with her family in Autre. On the super plus side she gets to see the hot, sexy, grumpy guy she had a one-night-stand with when she attended her cousins' weddings two months ago. All she knows about this guy besides his love of animals and his ability to wow her with his sexual prowess is that his name is Griffin. She hasn't been able to get him out of her thoughts since that night. Beside her job as marketing consultant Charli also has been tasked with assisting the veterinarian on site. Guess who her boss is. Yep. Dr. Griffin Foster.
Griffin Foster ended up as a partner in the Autre veterinarian clinic with his friend Tori Landry after getting fired from his job at the National Zoo in Washington D.C. This isn't his dream job of a wildlife vet protecting endangered species and educating people about the wildlife. Not exactly what he is doing in Autre but being taken in by the Landry family is a big plus. This sure is different from his job at the zoo. He has a stalker, a goat named Sugar. And when he's upset he goes and talks to the otters. Then there's the sexy, hot woman he had an out-of-this-world, mind-blowing one-night-stand with two months ago. All he knows is that her name is Charlotte. Here's hoping she comes back to visit again. He can't get her out of his head.
The Landry family is a hoot! It's great how they always have each other's back and are willing to pitch in to accomplish family goals. They are lots of fun. Then there are the animals. The goats are named after the Seven Dwarfs, the ducks after Harry Potter characters and the otter kids after candy. What a fun sense of humor Ms. Nicholas has. I love her voice and her humor. I want to go to Autre and be adopted by the Landrys.
Is it true that opposites attract?
Book Info:

 Publication: April 20th 2021 | EN Fiction, Inc. | Boys of the Bayou Gone Wild #1
What happens when a smoking hot, but grouchy vet meets a sunny and sassy optimist? An opposites attract, grumpy boss, small town romance that's otterly irresistible.
Broody wildlife veterinarian Griffin Foster is done. Done trying to save the world. Done getting attached. He's been fired twice for standing his ground and now he's going to be content — by God — in small-town Louisiana, in a small veterinary practice, where there will only be small problems.
Quiet and boring, though? Um, no. He's been adopted by a loud, crazy Cajun family with a tiny petting zoo for him to care for. Hey, it's not endangered tigers at a nationally renowned zoo, but a family of otters — and all the gumbo he can eat — isn't a bad deal.
Until she shows up. Again.
The sunny, gorgeous optimist who stole his heart — and his favorite shirt — two months ago. Who clearly hasn't heard the word "no" enough in her life. And who is the first woman to put even a tiny crack in his don't-get-attached wall.
Charlotte "Charlie" Landry is the new marketing consultant for the family swamp-boat tour company and petting zoo. It might not have been her plan, but she is all in, ready to grow the business. Whether the hot, grumpy vet likes it or not.
He doesn't.
Worse, sparring with his unforgettable one-night stand is more fun than he's had in a long time.
But watching wears-designer-dresses Charlie find her dream job amongst a bunch of goats, alpacas, and otters is a surprise.
And her helping him find his passion again is… well, irresistible.
Dammit.