Wrong Bed Baby by Taryn Quinn is the tenth book in Taryn Quinn's Crescent Cove series.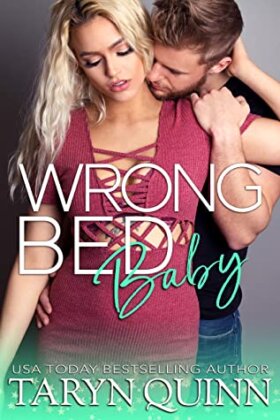 Luna Hastings can see the auras around people. She does Tarot readings and believes in the effects of certain crystals. She admits she's a witch, not the magic wand kind, the kind who is Wiccan. In addition to doing readings she also works at Kinleigh and August's Attic. She enjoys the eclectic nature of the shop. When a new neighbor moves in across the hall from her apartment she more than takes notice. She finds herself attracted to the guy. He's attracted to her too. Okay. Nothing wrong with a little fling. Then the fertility winds, water or whatever in Crescent Cove, basically Baby Central, strikes. Where do we go from here?
Caleb Beck is a footloose and fancy-free second grade teacher at the local Catholic elementary school. He and his BFF Lucky are enjoying their bachelorhood and have no plans to change that status any time soon. When Lucky agreed to help Caleb move into his new apartment Caleb was shocked when Lucky nudged open, just a little bit, the door to the apartment across the hall to watch the sexiest woman ever doing a routine on a dance pole. Caleb's hot, new neighbor, Luna Hastings, caught them watching and gave them heck. Caleb knew Lucky thought he should get first dibs at dating Luna since he saw her first but Caleb wasn't going to back off. She's his sexy new neighbor and he intends to get to know her better. Much better!
I really like Luna and Caleb. They are really great together. It's always an interesting read when the main characters think they will just have a little fling and move on from there. Reading about how they fall in love is fascinating. In this case one would probably never match up an elementary school teacher with such a free-spirited partner but it really works well here. As much as I liked Luna and Caleb I really enjoyed Caleb's BFF, Lucky. He is so much fun. I can't wait to read his story.
Book Info:

Publication: April 29th 2021 | Rainbow Rage Publishing | Crescent Cove #10
My new neighbor is sinfully delicious. He's also an elementary school teacher who flirts with absolutely everyone.
I flirt back—all very casually—until the night he accidentally ends up in my bed. And since I'm very in tune with the universe, I can't look a gift di…ah, horse in the mouth, right?
Caleb's hot as heck, and he's not all talk when it comes to his seductive charm. Let's just say rulers have nothing on him.
Cough, cough, wink.
Then I start wanting pickle-flavored ice cream. With peanut butter sauce and a cherry on top.
Only problem is Caleb isn't looking for a family or forever. Or so he thought…
Author's note: This daddy-to-be is about to learn a few things from the one woman who will give back everything he dishes out times three. Wrong Bed Baby is a standalone accidental pregnancy romantic comedy with a HEA ending and no cliffhanger.