In Part of Your World by Abby Jimenez, All it took was Alexis swerving to miss a raccoon in the road and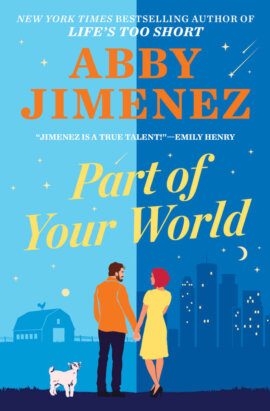 ending up in the ditch to meet the guy she could see herself with for the rest of her life. Being an ER doctor, she's not prone to dramatics. But small town, all around good guy Daniel is more swoon-worthy than any one of the doctors or businessmen in all of Minneapolis. He's especially better than her jerk of an ex. It's too bad Daniel's tied to his tiny hometown of Wakan. And that Alexis has her family legacy to uphold in the medical field. Otherwise, she could totally see herself settling down with Daniel in his family home and taking care of the town residents.
"So what's this guy look like?" she asked.
"Scott Eastwood in The Longest Ride, only with a beard. Oh, and he had a baby goat in pajamas."
"He didn't."
"He did."
Her eyes were wide. "I'd follow a clown into a storm drain if he had a baby goat in pajamas."
Daniel took one look at Alexis and instantly knew that she was way out of his league. He also knew that if given the chance to spend time with her, he would enjoy every last second. Because even though she's about ten years older and comes from a family who may as well be royalty, Alexis fits in Wakan–and in Daniel's life–perfectly. He realizes he can't give her the expensive things she's used to. But surely the strong bond they have together could be enough to take a chance on a relationship. Only Daniel didn't realize just how deeply Alexis is tied to her family's legacy. He can only hope she'll be willing to look at all of the options before she makes a decision to break things off between them for good.
'I couldn't make the money she made or buy her expensive gifts or take her on vacations. But I could love her better than anyone ever could for the rest of her life.'
A modern fairy tale that was also a rom-com, Part of Your World took my heart by storm and didn't let up. And thanks to Abby Jimenez's emotionally-charged writing, this is a book that will stay with me for years to come.
'Looking at his open face, feeling his warm arms around me, something inside of me screamed MINE.'
Trigger warning: View Spoiler »Domestic abuse (physical, emotional, mental), PTSD and depression. « Hide Spoiler
I'm not sure how author Abby Jimenez managed to take a story that was, quite honestly, filled with tense, heavy subjects (see trigger warning) and wrapped it up in enough light, laughter, and even a wee bit of magic to make this a dreamy romance. There were moments where I was angry and frustrated on a character's behalf. And some scenes had me shaking my head over how much of a no-win situation it seemed Alexis and Daniel were in. But through it all, there was a current of them belonging together. And what transpired by the ending was nothing short of inspiring as well as irresistibly sweet.
Even though Daniel and Alexis were polar opposites based on their backgrounds, I thought the reason why they worked so well together was that they both loved to help others and had kind, compassionate souls. They truly loved to take care of each other and those around them. And they each had their own strengths in that regard. For wonderful Daniel (my new book boyfriend!), it was being a caretaker for his family's B&B, the town, and all the locals. For lovely Alexis, it was her patients–both at the hospital and then in Wakan, while visiting Daniel. Sadly, it can be easy for such kind-hearted people to be taken advantage of. And that was part of what they each had to overcome in their personal lives.
There were some other threads to this story based on side characters, particularly Alexis's twin brother Derek, her BFF Bri, and Daniel's cousin Liz, and his close friend Doug. (Bri will be getting her own book in the Spring of 2023!) I think readers will get a kick out of the more comical parts–there was such great banter, plus farmyard pets with awesome names, lol–but will also empathize with the tougher subjects. That perfect mix of those two elements, light and dark, is the beauty of Jimenez's writing.
QOTD: There was a funny game-type question that made its way into a few memorable scenes so I'm stealing it: Who would be on your zombie apocalypse team?
Book Info:

Publication: Expected publication: April 19th 2022 | Forever |
The New York Times bestselling author of Life's Too Short delivers a refreshingly modern fairy tale perfect for fans of Casey McQuiston and Emily Henry.
After a wild bet, gourmet grilled-cheese sandwich, and cuddle with a baby goat, Alexis Montgomery has had her world turned upside down. The cause: Daniel Grant, a ridiculously hot carpenter who's ten years younger than her and as casual as they come—the complete opposite of sophisticated city-girl Alexis. And yet their chemistry is undeniable.
While her ultra-wealthy parents want her to carry on the family legacy of world-renowned surgeons, Alexis doesn't need glory or fame. She's fine with being a "mere" ER doctor. And every minute she spends with Daniel and the tight-knit town where he lives, she's discovering just what's really important. Yet letting their relationship become anything more than a short-term fling would mean turning her back on her family and giving up the opportunity to help thousands of people.
Bringing Daniel into her world is impossible, and yet she can't just give up the joy she's found with him either. With so many differences between them, how can Alexis possibly choose between her world and his?