Passion on Park Avenue by Lauren Layne: Naomi is smart, successful, driven, and loves fashion. She's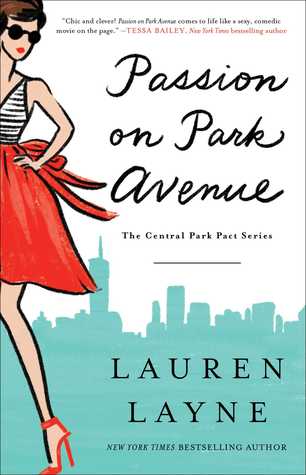 turned her love of accessories into a thriving business worth billions and she regularly makes the news as a top entrepreneur. She's thrown herself into her work and making sure no one can ever make her feel like trash again after her childhood in the Bronx.
Oliver is a blue-blooded New Yorker who grew up in the wealth and privilege of old money and a Park Avenue address. He's a gentleman who wears suits everyday despite being his own boss in the architecture firm he owns. He's a loyal son despite his parents and he's too busy to date anyone.
Naomi is dealing with a lot of changes. She's moving her offices, found two new and unlikely BFFs, being courted for a TV docuseries, and moving into a new apartment on Park Avenue. She's on the top of her game professionally, but still trying to lay old demons to rest…including her old tormentor and newest neighbor. Oliver used to tease her mercilessly as kids and now it's more of a fun and flirty banter.
"Speaking of that day, why did you put my through to the next round?"
"You mean after you stormed out of the office for no reason?"
"Oh, I had reasons," she said into her drink.
"Mind telling me what they were?"
Naomi is surprised by both how much Oliver has changed and by how much she's attracted to this adult version of him. Nothing is going like she planned as he challenges her and defies all her expectations. It's a rollercoaster as Oliver's constant presence tempts Naomi into getting the closure she needs while finding an unexpected option she didn't know she just might want.
"Are you wearing…sweats?"
He grabbed a plate and began loading food onto it. "You sound surprised. What did you think I wore in my downtime?"
"Elbow patches?"
Passion on Park Avenue is an entertaining former enemies-to-lovers romance. Lauren Layne provides a balance of the growing friendship of Naomi, Claire, and Audrey, surprising family dynamics, and the tension, anticipation, and heat with Oliver. Ms. Layne is off to a great start for a new series of smart and fashionable women not looking for their HEAs that I can't wait to follow. Fans of Catherine Bybee and Kate Meader will enjoy Passion on Park Avenue.
Book Info:

Publication: May 28th 2019 | Gallery Books | Central Park Pact #1
From the author of the New York Times bestselling Stiletto and Oxford series, the first in a sizzling new series following the unlikely friendship of three Upper East Side women as they struggle to achieve their dreams and find true love and happiness in the city that never sleeps.
For as long as she can remember, Bronx-born Naomi Powell has had one goal: to prove her worth among the Upper East Side elite—the same people for which her mom worked as a housekeeper. Now, as the strongminded, sassy CEO of one of the biggest jewelry empires in the country, Naomi finally has exactly what she wants—but it's going to take more than just the right address to make Manhattan's upper class stop treating her like an outsider.
The worst offender is her new neighbor, Oliver Cunningham—the grown son of the very family Naomi's mother used to work for. Oliver used to torment Naomi when they were children, and as a ridiculously attractive adult, he's tormenting her in entirely different ways. Now they find themselves engaged in a battle-of-wills that will either consume or destroy them…
Filled with charm and heart and plenty of sex and snark, this entertaining series will hook you from the very first page.