In Taming the Troublemaker (Hills of Texas #3) by Kadie Scott, when Autry Hill's parents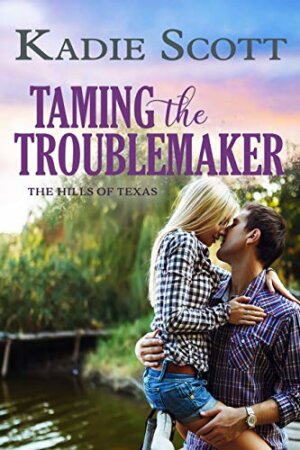 propose a huge challenge to him – if he can go six months without women they'll hand the childhood home over free of charge – he accepts. However, when he starts spending time with Beth Cooper after agreeing to help her with a trouble student, he finds it becoming harder and harder to stand by his decision, especially when Beth is such a temptation. Will Autry find a way to win Beth's heart and the challenge or will he sacrifice his chance at happiness for the challenge?
Her brown eyes scrunched down over those amazing eyes. "Oh, my god. I'm not hitting on you."
He ignored the protest. She was getting shut down after all, of course pride would make her protest. "It's definitely the most creative approach I've seen. If you'd asked me a few weeks ago, I would have taken you up on whatever it is you're offering."
Hands plonked down on slim hips. "Autry Aaron Hill, you'd be the last person I'd be interested in."
"Oh, really?" He cocked his head, his customary flirtatious grin slipping into place with practiced ease. "You've never wondered even a tiny bit?"
What a charming and fun-filled opposites attract trope encompassing story Ms. Scott has delivered in this third book of her Hills of Texas series where the Hill family are a tight-knit family that would do anything for each other, even if they are a little judgmental of the hero; the dialogue was compelling, as the heroine does her best to resist the hero's charm; and the obstacles these two face to be together had me hoping they'd be able to overcome them all, especially since the hero has made a promise to his parents; a promise he's determined to keep. Will he be honest with the heroine about the promise, so he doesn't give into temptation?
With the main characters, I loved their back stories; the way they interact with each other, which creates wonderful chemistry; and the delightful romance that had me hoping the hero would take a chance on Beth because she's good for him. She's sweet, honest, strong, brave and I liked how determined she was to help a troubled student by getting Autry to interact with the young boy Dylan and be a good influence on him. Then again, Dylan helps Autry too with the hero deciding he needs to grow up, be more responsible, and take control of his life instead of chasing skirts. I also liked that Beth took a chance on Autry, even knowing he might break her heart because he's not the kind of guy that's interested in forever.
"A woman who's immune to Autry," Jennings mumbled beside him. "I didn't know they existed."
Autry smacked his younger brother in the back of the head, satisfied when he garnered a grunt of discomfort. Beth lifted her gaze at that and chuckled. "We're a rare breed. I've classified us as femalicus vituperator." She paused for effect, blue eyes already sparking with laughter. "A woman who speaks her own mind."
His dad gave a bark of laughter that sounded over the rest of his family's hilarity. "She's got your number, son."
"Yeah." Autry cocked his head to give her a considering look. "She's a tough nut to crack."
While the hero, he really grows as a character and proves how good of a guy he is by everything he does for Beth and Dylan. He's charming, fun, determined to help the heroine with her troubled student and I liked how determined he was to win the challenge his parents proposed. Then again, it seems he's a little tired of the life he's been leading and needs a change, so the challenge isn't all that big of a hardship. However, I liked that spending time with Beth tested his resolve and had him questioning his stance on relationships. I also enjoyed the moments he spent finding ways to help Dylan and the decisions the hero made when it came to the future. Will he be able to prove to his family that he's ready for the kind of responsibility he's looking to take on?
Overall, Ms. Scott has delivered a wonderful read in this book where the romance was well worth the wait and the ending had me so thrilled by what Autry does to repair his relationship with Beth after what happens to cause their relationship to go awry. Is saying the words Beth wants most all that hard, especially when the hero feels so much for her? Will Autry get everything he wants – love, family, happiness? However, it was the epilogue that wrapped this story up nicely, as Beth and Autry are doing something great for someone they both care about and it's lucky that the pair can do it together. I would recommend Taming the Troublemaker by Kadie Scott, if you enjoy the opposites attract trope or books by authors Kaylie Newell, Jeannie Watt, Ann B. Harrison and Joan Kilby.
Book Info:

Publication: March 21st, 2019 | Tule Publishing | Hills of Texas #3
One daring kiss with the playboy tempts the good girl, but can she tame him?
Autry Hill may be a cowboy to his boots, but he's also gained quite the reputation as a charmer and playboy. His parents aren't sure he's ready to take the reins of the family's prosperous Texas ranch, so they set up a challenge: No women or scandal for the next six months and the ranch house he grew up in is his. Easy peasy, Autry thinks. He's already tired of late nights and romancing, until elementary school teacher Beth Cooper happens to cross his path. Suddenly Autry is losing his heart, his mind, and what's left of his reputation.
Good girl teacher Beth Cooper is far too practical to fall for Autry Hill, even if she had a crush on him way back when. The man's been breaking hearts since middle school. But when he becomes her unexpected champion and then they work together to help one of Beth's troubled students who's about to lose everything, she sees a different side of Autry – serious, compassionate, determined and dedicated. And that Autry is nearly impossible to resist. Does she need to?