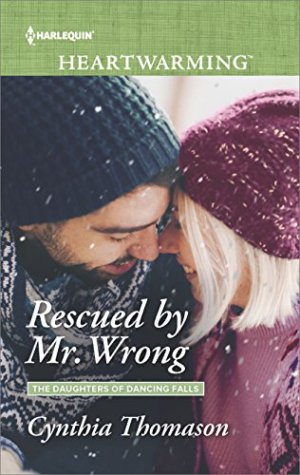 In Rescued by Mr. Wrong (Daughters of Dancing Falls #3) by Cynthia Thomason, Carrie Foster doesn't enjoy her family treating her like a baby all because of her medical condition. So, when she's in an accident on her way to surprise her family for Christmas, Carrie knows there's no way she can tell them what happened. Instead, she decides to ask Keegan Breen — the stranger that rescues her — for help by surprisingly declaring that their relationship is more than it is. Can she convince Keegan that being alone isn't the way to live?
"You're darn lucky the doctor didn't ask my name. He'd have noticed that our last names are not the same"
"I thought of that," she said. "I had an answer ready."
He shook his head. "I'm sure you did. I'm starting to feel like you rammed your car into a pole, and I'm the one dealing with the consequences."
"Don't you think you're being a bit dramatic? Besides, you can hardly say that you don't know me. We've been together for—" she glanced at her watch "—almost four hours now. I feel like I know you as well as I know most…" She couldn't come up with a word.
"Strangers?"
Although I've read the first book of this series, I haven't had the chance to read the second, but I can say without a doubt that all three books can easily be read as a stand-alone. Right from the beginning, this story was very engaging, fast-paced and provided plenty of emotion, which had me feeling sorry for the heroine. Her family treat her like glass; someone that will easily break under certain circumstances and I could understand why she wants to keep her injuries to herself. No way could she handle their babying when she's tried so hard to be the independent and hard-working woman she is. Besides, she takes all the precautions she's supposed to in keeping herself healthy.
Both the main characters have compelling back stories, and I was totally hooked by their growing relationship, as Carrie does her best to prove to Keegan that life is worth living and that he shouldn't let past regrets stop him from doing what's right when it comes to the most important person in his life – his son. Really, Carrie was a delightful heroine. She's strong and brave, despite all she'd been through growing up with her family being overprotective. Where they'd prefer to put Carrie in a bubble so nothing hurts her, she's strived to prove she can conquer her illness. Certainly, her stubbornness and commitment to pursuing her dreams helped her be the strong, independent woman she is. No way would anyone stop her from achieving anything she set out to do, which is proven by what she does for the hero.
While Keegan, after everything he's witnessed due to his job as a reporter; a reporter that always chased big stories that took him into dangerous territory, it's hard for him to let anyone in for fear he could be putting his trust in the wrong person. Except Carrie is totally different in the way she's kind and caring as well as open and honest. She's a breath of fresh air to his cynical life; always seeing the best in people and the environment.
She stared at him as he slipped his jacket on. "I wonder if you even know what's outside your door," she said.
"I know what isn't. We've just discussed it."
She smiled at him, but it was a smile of indulgence, not pleasure. "I believe that every living thing has potential," she said. "As long as cells keep multiplying, there is always a chance of renewal for everything in nature."
"I suppose you believe that about people, too?"
Overall, Ms. Thomason has penned a really good read in this book where the romance stayed on the sweet side but illustrated how right Carrie is for Keegan. Something he needed to realize if he was ever going to be happy again. The way this story ended made me a little sad. How could Keegan be so cruel by doing the one thing that would make him lose Carrie's trust? Yet, in saying that, I liked how he made things right with the heroine. Groveling works like a charm, especially when he throws her previous words back at her about their relationship to take her by surprise. I would recommend Rescued by Mr. Wrong, if you enjoy the opposites attract trope, the fake relationship trope or a story where the epilogue wraps this story up nicely and shows that happy ever after is worth fighting for.
Book Info:

 February 7th, 2017 | HQN | Daughters of Dancing Falls #3
Life is meant to be lived
Surprising her family for Christmas seems like a good idea…until Carrie Foster loses control of her car in a freak blizzard. Now she's stuck in the middle of nowhere with a fractured leg, the unplanned-for guest of the man who saved her life.
Keegan Breen lives in a secluded cabin on his family's neglected campgrounds, which nature-lover Carrie sees as a potential paradise. The haunted war correspondent is a world away from the boy he was once. But together, can they prove the cynics wrong and show that opposites can not only attract, but be soul mates?