In Playing Dirty (Sydney Smoke Rugby #6) by Amy Andrews, all Valerie 'Val' King has ever wanted was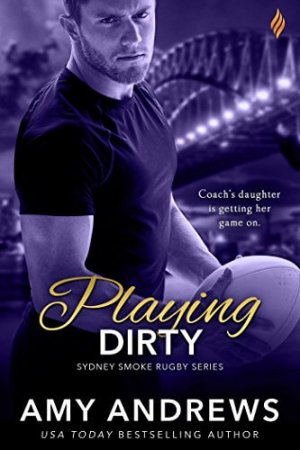 her father's love, except he cares more about football than his own daughter. With him being the coach of the Sydney Smoke Rugby team, she knows she's not supposed to get involved with any of the players. However, when she meets Kyle Leighton — the team's newest player – there's no way she can stay away from him; not when he makes her feel things she's never felt before. Will Val and Kyle give a relationship between them a shot or will they go their separate ways when what they've worked so hard for is threatened?
"You're right," she said. "I'm undercover."
He grinned. Triumphantly. "I knew it!"
Val sucked in a breath. The man had a smile that could melt ovaries. "I've been sent to take out all men using cheesy pick-up lines."
"Oh no." He gave a faux groan. "It wasn't that bad, was it?"
"It needs a little updating. But I suppose a guy like you doesn't have to try too hard." She bet he didn't even have to open his mouth to get women swooning.
I have loved this series from the very first book and have been looking forward to Val's story, as she's the coach's daughter and totally off-limits to the players. Yet, there's finally someone willing to fight and show her that love is worth fighting for, no matter what tough obstacles they face to be together. As for the way this story started, it had me sympathizing with the heroine, as she's flying solo on a very important day; a day that should be joyous but is a painful reminder of all her family has lost and been through. Will Val ever have the kind of relationship she wants with her father? Will Val ever be able to heal from her past? However, it was from the moment the hero and heroine come face-to-face for the first time where this story comes alive, as Kyle is just the fun she needs to turn her celebration around.
With the dialogue, it was a wonderful combination of intense moments due to the main characters back stories, especially that of the heroine, because she's tried her whole life to get her father to love her after what happened; and playful banter that had me loving the incredible chemistry between this couple that spills over onto the pages in scorching sex scenes. Moreover, the hero is confident, cocky, hard-working when it comes to his career as a rugby player, resilient and I liked how determined he was to win the heroine over and prove to her that he's not afraid of risks because she's worth her father's wrath.
Val shifted against hi, her breathing still husky. "I'm no timekeeper, but I'd bet that was less than two minutes."
Kyle muffled his laughter into her neck. "You said hurry."
"I do like a man who can follow directions." She was smiling, he could hear it in her voice.
"Fast, slow, multiple, tantric. Orgasms delivered just the way you want them."
While the heroine, she's had it tough with what happened to her family when she was younger. How could her father leave her at a time when Val and her mother needed him most? Yet, in saying that, she's resilient, courageous and I liked how determined she was to have a relationship with her father, even though there are times when I thought Val ever having a good relationship with her father was impossible. I also liked the close friendships Val shared with the Sydney Smoke Rugby players and their wives because they're protective of her and want to see her happy. Will they be able to help her finally have the kind of relationship she wants with her father? How far are they willing to go to help her?
Overall, Ms. Andrews has delivered an absolutely spellbinding read in this book that I loved from start to finish and was a story I could not put down for even a second. As for the way this story ended, it was heart-warming and had me loving the effort the hero goes to in order to show Val that she's more important to him than anything in his life. Will Val be able to put her trust in him after how things go awry in their relationship? However, it was the epilogue that wrapped this story up perfectly, as Val finally found the love she deserves and has so much more to look forward to, especially with what's happening in her life and all that has happened. I would recommend Playing Dirty by Amy Andrews, if you enjoy sports romance, the forbidden romance trope or books by authors Naima Simone, Kelly Jamieson, Gina L. Maxwell and Tawna Fenske.
Book Info:

Publication: July 9th, 2018 | Entangled Publishing | Sydney Smoke Rugby #6
Sydney Smoke star recruit Kyle Leighton can't believe the best sex of his life was just a one-night stand. He didn't even know her name… Until she shows up at the locker room two weeks later and he connects the dots.
Val King. Oh shit.
Coach has one hard and fast rule: Never, ever date (much less f*ck ten ways to Sunday) his daughter. And not only did Kyle break that rule, but he wants to break it over and over again. In the shower. Against a wall. On every flat surface in his home.
But the coach and his daughter share more than just DNA. Their issues run deep and fooling around with her could widen the family chasm.
And get Kyle benched for life.
So why can't he stop thinking about her? Flirting with her? Suggesting they date for real and damn the consequences?