In Playing Dirty by Tiffany Snow, for some reason Sage Reece can't seem to stop loving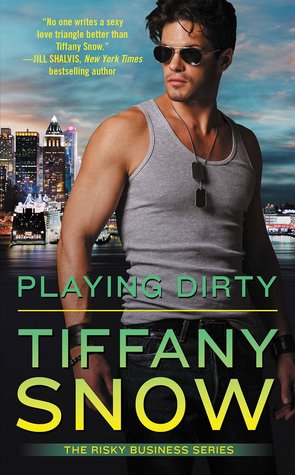 Parker Anderson, even though sexy detective, Dean Ryker, provides plenty of distraction both in and out of the bedroom. But when an old enemy returns, seeking revenge against the two men, Sage finds herself a target. Her only chance at staying alive, is to trust both Parker and Dean to keep her safe. But can they overcome their past to protect her? Or will it get one of them killed?
Being the second book in the Risky Business series for Ms. Snow, I absolutely loved how the author introduced the characters really well, explained why there's bad blood between Parker and Dean, and summarized what the first book was about in this one. So, it can be read as a stand-alone.
"So how's Armed and Delicious?" Megan asked, biting into a powdered donut.
I answered around a mouthful of strawberry jelly. "Ryker's fine," I said. "He had to work late. Was asleep when I left. So…I guess we're kinda…living together now?" I meant it as a statement but it came out as a question.
At the start, I struggled to be entertained by this book, but the moment Sage began talking about her relationship with Dean, it really picked up for me. And from that moment, it was thrilling, fast-paced, and provided edge-of-your-seat suspense. The plot twists were exciting, and I couldn't wait to read what would happen next. As both Dean and Sage are forced to make some hard decisions, which ultimately change things for all three characters.
I was a little disappointed by the fact that this story was only told from the heroine's point of view. I would have enjoyed it more, if it was told from both Parker and Dean's also. However, in saying that, I did like the dialogue. It was intense, as Sage struggles with her love for both men, and the fact that someone is using her to get back at them. There were also moments that made me grin. Parker just couldn't help himself being around at times when Sage didn't want him to be.
"It's not up to Parker to allow anything." I said. "It's my life."
"And you're sleeping with his arch-nemesis." She reminded me.
"So they had a falling out. It was forever ago." I shrugged popping the rest of the donut into my mouth.
"It was over a woman and they still hate each other." She said. "It's not like they're let-bygones-be-bygones kind of guys."
I absolutely loved Dean. He and Parker have quite the history, and I really felt for him in the moments where he, Parker, and Sage were altogether. Moments that were a constant reminder, of how he believes Parker betrayed him, and that it might happen again. I did like Sage. She's strong, courageous, but I also felt she was a tad selfish at times. Knowing the reason why there's bad blood between the two men, I kept asking myself 'how could the heroine continue her relationship with Dean, when she's also in love with Parker?' She definitely needs to choose between them, or let them both go. While with Parker, I liked that he would do anything to help Dean protect Sage. Not only because he loves her, but in hopes that it might repair their friendship. They were once as close as brothers.
Sage has really strong chemistry with both men, which spilled over onto the pages in some sultry sex scenes. The question of will she, or won't she indulge in both men surfaces many times. And it was worth the wait to see if she does or not, after a couple of plot twists strain her relationship with Dean.
Overall, I thought this was a good book, of which the ending really surprised me. I totally wasn't expecting the person that rescued Sage to be who it was. I will definitely look forward to reading the next one, as I'm curious to see which of the men Sage ends up. Will it be Dean, or Parker? I would definitely recommend this book, if you're a fan of romantic suspense.
Book Info:

Publication: September 29th, 2015 | Grand Central Publishing (Forever) | Risky Business #2
Faced with a choice between bad-boy detective Dean Ryker and sexy power player Parker Anderson, Sage Reece fought the law–and the law won. But while Ryker's sizzling touch may rule her nights, Sage's days belong to Parker's cool, calculating intensity. . . .
Both Ryker and Parker are determined to protect Sage from a brutal enemy who'd use her to pay for their mistakes. Yet when the usually on-point Ryker is distracted by ghosts from his past, Parker seizes his opportunity to get Sage's attention–and keep it in ways beyond her wildest dreams.
Now, caught between a mobster out for revenge and two men who were once best friends, Sage must play to win–even if it means getting dirty. . . .