Playing It Close by Kat Latham: When Tess' cousin offered her a chance to get away from London and the shitstorm in which she was stuck, she jumped at the chance. She wanted to be as under the radar as possible, but that didn't mean she didn't want to live a little. It was just bad timing that the night she decided to half skinny-dip she ended up in an elevator with Liam Callaghan, wet T-shirt and all. *Stuck* in an elevator with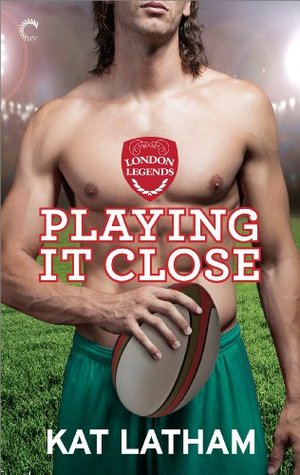 Liam Callaghan – who apparently was playing at being off the radar as well.
Liam just needed some time away. Being Team Captain for the London Legends was something he knew how to do forwards and backwards, but things from his personal life were plaguing him. Hopefully a trip to Venezuela would purge the guilt from his mind once and for all. Things look pretty promising when a nymph appears and seems to like him as Liam the person, not Liam the Rugby player. But after one night, she's gone – and he learns she's not exactly what she claimed to be.
Apparently, one night wasn't what was in the cards for Liam and Tess. Her cousin's travel agency is going to sponsor the London Legends, and for some reason, things keep throwing Tess back into Liam's path. They've both lied to each other, but it's Liam that has a grudge to hold. He can't get over the fact that Tess kept so many things from him in Venezuela, but he also can't stop his attraction towards her. He just doesn't know which one will win out.
Okay, I really dug this book. I thought perhaps the body issues were repetitive, but I understood that it was a huge part of Tess' backstory, so I get it. I love that Tess was super laid back and not angsty – that Liam was the one who worried about their relationship. A refreshing change from the usual 'girl over-reacts, guy brings her back down to earth' plot-point.
The interaction between Tess and her family was heart-wrenching, and I would've loved to see more of Tess and Gwen together. The parts where she spent time with her father at the Rugby matches were precious, truly dad cringe-worthy moments. Her cousin was great, the business dinner was pretty funny, you'll know what I mean when you read it.
Overall, if you like sports romances, there's enough sports to make you happy. If you're not sure, there's plenty other stuff and it's not 'over the top' Rugby-ish. You won't be lost if you don't understand the sport, even if you don't read the Rugby primer included at the front of the book. Solid writing, and I'm going to go back and read the first book in the series. 🙂
Book Info:

Publication: April 14th 2014 by Carina Press
Where do you go to escape everything when you're one of the most famous rugby players in the world? For Liam Callaghan, that place is a remote lodge on Venezuela's Caribbean coast. Perfect, except he doesn't exactly want to be alone with his thoughts. Enter Tess Chambers, the ultimate distraction.
Still reeling from a professional disaster that's made her all but unemployable, Tess understands the desire to move through life as somebody else. So when instantly recognizable Liam uses a fake name, she runs with it and creates a temporary new identity of her own.
Their time spent together in paradise is idyllic but brief – after one passionate night, Liam wakes up to find Tess gone. Returning to London, he's shocked to learn she's taken a job with his team's new sponsor. As the Legends' captain, he'll have to not only figure out how to work with the one woman who ever left him wanting more, but also convince her that their feelings in the present mean more than any lies they've told in the past.