In Playing it Cool (Sydney Smoke #2) by Amy Andrews, Dexter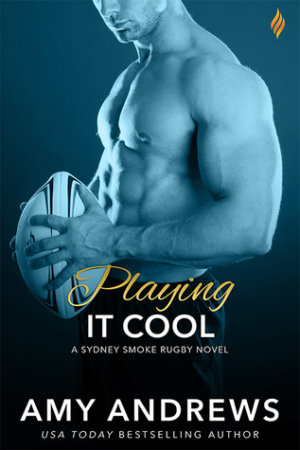 'Dex' Blake doesn't do relationships, but when he witnesses Harper Nugent's step-brother slinging insults about her having a little extra padding on her body than she should, Dexter can't help but intervene by asking her out on a date.
Look. I'm very flattered that you want to go out on a date with me, but –"
"You should do it," Em interrupted.
Harper blinked at her best friend. "What?"
"I told you I liked the sound of her," Dex said in her ear.
Em shrugged. "It'd be worth it just to piss off Chuckers." If it was possible, Em disliked Chuck more than Harper did.
I love how Ms. Andrews always leaves me – as a reader – coming back for more after I've finished one of her books, and this second story of her Sydney Smoke series was smoking hot, highly entertaining, and a book where the pages really flew by for me until I was astounded by how quickly I finished it. Considering this story encompassed the fake relationship trope; a trope I tend to avoid reading unless I've already read books by the author.
As for the dialogue, it was compelling and the opening line of this book drew me in immediately, and there was no way I was going to stop reading once Dex and Harper met. The heroine's step-brother is a real jerk, and Dex intervening made me like him the second he was introduced. Because with a step-brother and step-mother like Harper has than who needs enemies. Moreover, I loved the playful dialogue between Dex and Harper, and their one-liners had me laughing. What Stars Wars fan doesn't enjoy an author that makes references to the characters of the movies?
He held up his hands in surrender. "Hey, you want to talk masturbation? I'm up for that. But you're talking to an expert here."
Her lips quirked, dragging his faze south to their full, glossy pillows. "Expert, huh?"
"A jedi," he deadpanned.
She laughed, but it was husky, the sound going straight to his balls. "A jedi?"
He nodded. "Obi-frickin-wan, baby."
"What makes you think I'm not an expert?"
Harper was an incredible heroine, and from the moment she was introduced I knew she was going to be a heroine I would remember long after I finished this story. She's strong, brave and I liked that she took her best friend's advice because what woman wouldn't want to annoy a step-brother that can't keep his opinions to himself. Besides, taking a chance on Dex could be the best thing that ever happened to her. As long as they overcome their biggest hurdle, of Dex believing he can't have a relationship and his career as a rugby player because one would distract him too much from the other.
While Dex, he's confident and I liked how protective he is of Harper when it comes to her family. Also, he's worked hard for his career and I could sympathize with him when it came to Harper being a distraction. Yet, at the same time, he needed someone like Harper in his life; someone to share the good times and the bad and make him realize that there's more to life than rugby. Furthermore, I liked how Dex was with his teammates and how tight their friendships were. The way they teased Dex about his growing relationship with Harper made me smile, because it was palpable how much he was coming to care for the heroine.
"Oh…" Light finally dawned in her eyes. "You're one of those guys."
"Those guys?"
"All about the bass."
"I am," Dex chuckled. "I really am."
"I've heard about your sort but thought you were just some kind of mythical beast. Like a unicorn."
Overall, Ms. Andrews has done it again. Everything about this book – the main and secondary characters, the incredible chemistry between this hero and heroine that spilled over onto the pages in some incredibly hot sex scenes, the fast-paced plot as well as the dialogue – had me hooked. The way this story ended took me by surprise because I didn't think Dex had it in him to make such a public declaration of his love for Harper. Yet, I was glad that he did because Harper needed a go big or go home moment from him to be able to believe how much he loved her. I would recommend Playing it Cool by Amy Andrews, if you enjoy the fake relationship trope.
Book Info:

Publication: September 12th, 2016 | Entangled Brazen | Sydney Smoke #2
Score one for the curvy girls!
Harper Nugent might have a little extra junk in her trunk, but her stepbrother calling her out on it is the last straw… When rugby hottie,Dexter Blake, witnesses the insult, he surprises Harper by asking her out. In front of her dumbass brother. Score! Of course, she knows it's not for reals, but Dex won't take no for an answer.
Dexter Blake's life revolves around rugby with one hard and fast rule: no women. Sure, his left hand is getting a workout, but he's focused on his career for now. Then he overhears an asshat reporter belittle the curvy chick he'd been secretly ogling. What's a guy to do but ask her out? It's just a little revenge against a poser, and then he'll get his head back in the game.
But the date is better than either expected. So is the next one. Andthe next. And the heat between them…sizzles their clothes right off.
Suddenly, this fake relationship is feeling all too real…