Playmaker by L.P. Dover: Maddox is known to be a player off the ice and developed quite a reputation in the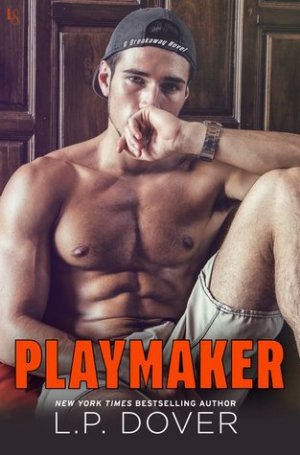 locker room. To say he didn't exactly get along with his teammates would be an understatement, but the effort he's made to be less of a jerk is paying off. He's sexy, has a great career, and is loyal to members of his family.
Lacey has grown up around hockey her entire life and she's always followed her brother's career. She's smart, loyal, and focused on her career in medicine. Lacey is close to her family, especially her protective brother and sister-in-law.
Maddox and Lacey have quite the history. They had an amazing fling in Vegas…until they didn't. Some time passes until they finally meet again. Both are surprised, but Maddox finally decides it's time to make his move at the wedding where both just so happen to be in the wedding party.
"No!" I shrieked. "Just because I'm here right now doesn't mean I want to pick up where we left off."
He winked. "Those are my terms. … I could easily let the world know our secret. You can't come here and ask something of me if you're not willing to give me something in return."
Both have changed and matured since their fling. Maddox has really worked to repair the relationships with his teammates and he loves to mentor kids during their camps. But the real work is ahead to convince Lacey to give them another shot. They chemistry and attraction are still there and they support each other in their careers.
He met my gaze and laughed. "You okay?" he asked, removing the wings from the oven.
"Yeah, I just wasn't expecting this. We're all domesticated now."
He burst out laughing. "Domesticated? Are you trying to say we're boring?"
Playmaker is entertaining, sexy, and fun. L.P. Dover brought together a really good plot, strong characters, heat, humor, conflict, family, and friendships. Ms. Dover continues to build on a great cast of characters in the players, their family, and friends. Playmaker can be read as a standalone in the Breakaway series. Fans of Sawyer Bennett, Lorelei James, and Sarina Bowen will Playmaker.
Book Info:

Publication: Expected publication: February 27th 2018 | Loveswept | Breakaway #3
He knows every play in the book. But she's calling the shots.
I'm Maddox Ledger, all-star winger and the reason the Charlotte Strikers killed it in the playoffs. Yeah, the tabloids like to call me arrogant. A real hothead. All I see is a guy who plays to win. Wreaking havoc on the ice, breaking a few hearts—that's all just part of the game. And I'm sure as hell not sitting on the bench.
When my teammate asks me to be in his wedding party, I can't refuse—but that's the only way you'll see me walk down the aisle. Commitment is for suckers. Lucky for me, the bridesmaid I'm paired with is the definition of eye candy. Lacey Easton is totally irresistible . . . and weirdly familiar. A glimpse of bare shoulder takes me back to a steamy Vegas night I can't forget. One I'm eager to repeat.
Suddenly our one-night stand is turning into the sequel . . . and so much more. Still, Lacey's keeping secrets. She doesn't trust me. And maybe I deserve it. But there's no chance I'm letting her get away—or letting another guy take what is mine. This time, I'm playing for keeps.
Don't miss any of New York Times bestselling author L. P. Dover's red-hot Breakaway novels:
HARD STICK | BLOCKED | PLAYMAKER