In Pleasured by You (Wellspring #3) by Elle Wright, Bryson Wells and Jordan Clark were once very good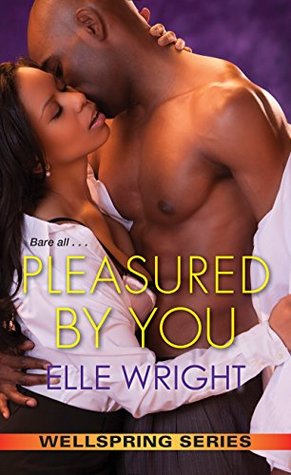 friends, but Bryson left town and never looked back. Yet, years later, they're reunited and spend an incredible night together where soon after Jordan discovers she's pregnant. Will Bryson do the one thing he swore he'd never do and return to his hometown to settle down or will Jordan break his heart by being unwilling to give happy ever after a shot?
="I want to be there," He turned to her. "You don't mind, do you?"
She glanced at him before turning her attention back to the ceiling. "I wouldn't expect anything different from you, Mr. Move-In-With-Me Wells."
He laughed. "It wasn't my best moment, but it wasn't my worst either."
"Jury is still out on that."=
The first two books of this series are wonderful reads, which have had me looking forward to Bryson's story, as he's the Wells sibling that has had the hardest times of life with the way his father treated him and coming home to Wellspring is something he always thought he'd never do. Will something change his opinion and make the hard times better to deal with? The way this story started had me sympathizing with the hero, as being around his siblings reminds him of the hard times in his life. Yet, I liked that he was willing to make the effort because he owes his brother so much. However, it was from the moment the hero and heroine come face-to-face for the first time where this story really takes off, as Jordan was once a very important part of Bryson's life and he regrets so much of what he did in the past to make life for himself better.
As for the dialogue, it was intense due to the main characters back stories and a little emotional due to what the hero has to do to fulfil the terms of his father's will. Will he be able to handle the terms? Will Jordan help him succeed, especially when what he gets at the end of fulfilling the terms can help a lot of people? Moreover, both the main characters were fascinating and I especially liked Bryson, as he's finally ready to move beyond things that happened in his past, even though that isn't easy. Then again, he's full of confidence in getting what he wants and I loved how determined he was to win the heroine over. Really, he can be quite persuasive and persistent in his pursuit of Jordan, which had me smiling at times. Will he win her over in the end, especially since she's been hurt before and doesn't trust easily? While the heroine, I liked how she kept the hero on his toes, even though her need to push him away to protect herself from hurt frustrated me a little. Why couldn't she realize that he was a good guy and that he wouldn't make the same mistakes he made in the past? Will she realize how good of a guy Bryson is before it's too late?
"Bryson," she moaned when he pulled away. "You're relentless."
"I just know what I want, what I've always wanted."
"Always?"
He traced her lips with his finger. "Always. But I won't push you, Jordie. I'm a patient man. I've waited this long, and I can wait a little longer."
"Why?"
"Because it's going to happen."
Overall, Ms. Wright has delivered a really good read in this book where the chemistry between this couple was strong; the romance was nicely-detailed and hot; and the ending had me worried for one of the main characters, but had me loving how determined the heroine was to make things right with Bryson, especially after how their relationship goes awry. However, it was the epilogue that wrapped this story up nicely, as Bryson and Jordan are so happy together. I would recommend Pleasured by You by Elle Wright, if you enjoy the friends to lovers trope or books by authors Jules Bennett, Heather McGovern, Allyson Charles and Donna Kauffman.
Book Info:
Publication: November 27th, 2018 | Dafina |

Wellspring #3
It's been years since Bryson Wells cut all ties to his hometown and family, going so far as to change his name and delete his social media accounts. He's built a profession and a life for himself away from his domineering father, but as the man's death draws near, Bryson finds himself back in Wellspring—and face to face with the woman who has a hold on his heart . . .
Jordan Clark's life is not turning out quite as she planned. Instead of working towards her law degree, she's in Wellspring caring for her ailing grandfather. Running into Bryson in the hospital brings back memories of the night their longtime friendship erupted into passion. The attraction between them has only gotten stronger. But Jordan will have to decide if Bryson's love is real, or if he's settling to get the family he's always wanted. . .