My Forever Home (Rescue Me #3) by Debbie Burns: Pouches and Pooches which sells upscale pet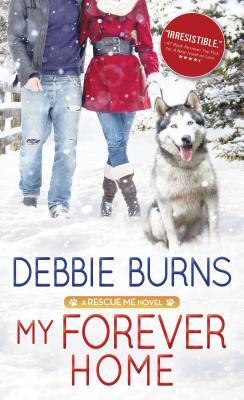 products doesn't go as well as she had hoped. While outside waiting for a bus to return home after her disappointing meeting Tess sees a guy chasing a runaway dog. "He's doing this all wrong" was Tess' first thought. Then it was time for action. Tess raced across the road to help the poor guy catch the pooch. Girl catches pooch. Guy is grateful and offers her a ride home. Who can resist tall, handsome Mason Redding?
Mason Redding, star professional baseball player, was walking his friend's dog in the park when she slipped out of her collar. He wasn't having much luck catching her when a stranger stepped in to help. He discovers that not only is this stranger, Tess Grosso, great with dogs but he instantly felt comfortable with her, especially because she didn't recognize him. He was tired of women wanting to date him because of his fame. This woman was different. He wanted to get to know her better. Was she interested in seeing him again?
Street-smart stray dog, John Ronald, as Mason Redding believes his name should be, wants to trust Mason who has been feeding him and trying to befriend him for months. But trust doesn't come easy to this stray. It takes an extreme event to bring them together. Will this relationship between a dog-loving human and man's best friend turn out well?
Author Debbie Burns has written a truly beautiful love story in My Forever Home, book #3 in her Rescue Me series. She portrays love of man and love of dog with startling clarity. All three of the main characters, Tess, Mason and John Ronald have many past issues to overcome before trust and love prevail. Debbie Burns writes a smoothly running storyline conveying how the characters' roads to love and trust run, a road filled with bumps and twists. This author's ability to illustrate the conflicts in the lives of these characters as difficult yet resolution of their conflicts is possible with some effort and trust is admirable. This story was an emotional read for me and very pleasing as to how it ends. I was very invested in these characters and found myself rooting all throughout the book for their Happily Ever After. For all three of them together!
Book Info:

Publication: November 27th 2018 | Sourcebooks Casablanca | Rescue Me #3
Love comes to the rescue
Vet school drop-out Tess Grasso dreams of having her own pet therapy business, but she meets one disastrous obstacle after another. There's no denying she has a way with animals, so in the meantime she puts her skills to use at a local no-kill shelter. Between helping her furry companions and a budding relationship with fellow dog lover Mason Redding, Tess begins to find fresh confidence…
What Tess doesn't know is that Mason is recovering from an accident, hoping to get back to his pro-baseball career. He's afraid the truth will ruin everything-and he's right. But in the midst of hurt and betrayal, a free-spirited stray Husky enters their lives, and teaches them a few things about faith, love and forgiveness.