Poison Kisses Part 3 by Lisa Renee Jones wraps up the Poison Kisses series and tells the fate of Seth and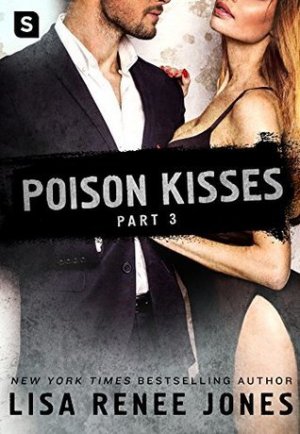 Amanda. Are they going to go through with their promise to kill each other or will their love for each other save them?
In the last book, readers were left with a huge cliffhanger. Amanda, using Seth's phone, just opened a message that shows her parent's kill orders assigned to Seth, with images of her mother's death. Having just seen this, after reaffirming their love for each other, Amanda demands answers from Seth, while pointing a gun at his face. This book picks up directly from that point.
Seth tries to appeal to Amanda's emotional side, repeatedly denying the accusations.
"It would be poetic justice to shoot you in the heart right now."
"We both know you don't want to do that. I've never lied to you and I'm not lying now. You know that."
The evidence against Seth is mounting, but his spoken words and actions toward Amanda are nothing of the assassin we know him to be. Amanda and Seth work with each other to find out who is framing them and with a little help, they will find out those answers, whether or not they are expecting who's responsible, is another story.
I really loved how we got Amanda's point of view in this book. It was interesting to see what prompted her actions three years ago and her feelings going forward. This book was more fast-paced than the previous ones and a bit more enjoyable. That being said, I really liked Bear's character and I hope he gets a story. Overall, it was an enjoyable read and anyone who enjoys the enemies to lovers trope will enjoy this series.

Book Info:

Publication: February 20th 2018 | St. Martin's Griffin | Poison Kisses #3
Those you love, know how to hurt you. Those you love, know what to hide, because they know what is unforgivable to you. Now that I know what Seth hid from me, I want the secret to be the lie. I don't want to kill him. I don't want to leave him. I guess that is why they say there is a fine line between love and hate. I love and hate that man with such passion, that it damn near hurts. But now, as we face down our shared enemies, as we are lead right back to an explosive discover about my family, and to the night Seth and I parted ways, we will both be exposed in every way. And it's time for me to decide if I plan to love Seth Cage for the rest of my life, or kill him, before he kills me.
***Part three of the three part Poison Kisses Serial****