Pregnant After One Forbidden Night by Marcella Bell is the wonderful conclusion to The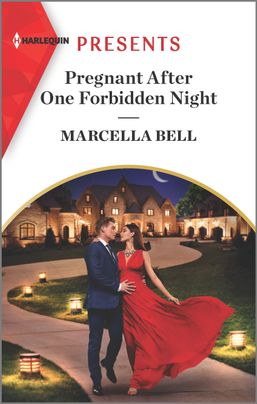 Queen's Guard mini series.
Unlike any other night Jenna drops her very serious and driven professionalism momentarily and the consequences are huge in more ways than one. Sebastian somehow (ok, we all know how) convinces Jenna to spend an illicit moment with him and when alarm bells start ringing they're not in Jenna's heart, they're actual alarms ringing!!! Refer to book 2 to learn more about the kidnap of Jenna's friend. Skip forward in time, not only is Jenna fired but she's carrying Sebastian's baby! I loved the way Sebastian knew, not sure I've ever read the same scenario in any Presents before.
Marcella Bell dreams up plots and scenario's that I've so much enjoyed for a change of the usual. The unexpected baby plot has locations beautifully described. The characters are interesting and watching the Queen's Guard and the Director of Central Intelligence for Cyrano fall in love was thoroughly enjoyed. I loved their escape from Jenna's home in the middle of the night and I enjoyed Sebastian's protective walls be chipped away in his home.
I have really, really enjoyed this mini-series. I love that they all start at the same time and branch off into each character's adventures. Can be read as a standalone but I recommend reading each to receive the full enjoyment and layers.
Book Info:

Publication: November 2021 | Harlequin Presents | The Queen's Guard Book #3
Royal guard Jenna Moustafa has never been tempted away from duty before. In fact, she's never been tempted by a man before! Until her instant connection with Sebastian, Duke of Redcliff, and their forbidden night together that upends her life…
Quickly, Jenna discovers there's so much she doesn't know about Sebastian—including his view on love as dangerously foolish. Which is a huge dilemma when Jenna realizes she's carrying more than just a flame for the notoriously untamable billionaire—she's carrying his baby!
Book 1: Stolen to Wear His Crown
Book 2: His Stolen Innocent's Vow
Book 3: Pregnant After One Forbidden Night