Pregnant by the Billionaire by Karen Booth: When you look across the room and you just know that the person you are looking at is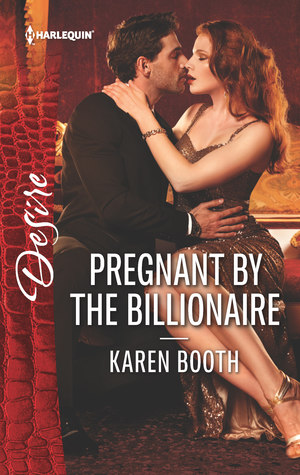 the one you are going to be spending the night with you don't ask a lot of questions. When they don't call you, then you start wonder…until you can't.
Kendall Ross knew who she was with that night at her friends wedding, but she also thought she deserved a call and when she didn't get one, she built her walls. Every day her walls got higher until she walked into her conference room at work and realized that her walls might not be high enough.
Sawyer Locke was used to getting what he wanted. He worked hard for it, but he got it. He didn't let things get in his way nor did he let people get in his craw. One-night stands were his standard. He didn't realize that one night in Maine at a wedding would stick with him for so long. So when he saw Kendall again he started to wonder if more than one night was going to be possible.
Working together, fighting perceptions and throw in some unsuspecting drama; these two have their work cut out for them. Their future is anything but clear.
Ms. Booth has begun an interesting series on the Locke family with this novel. While the love story of Kendall and Sawyer does wrap up fairly nicely the story of the Locke's leaves the reader needing more. Ms. Booth does a wonderful job of helping the reader get invested in the family and wanting to know more and more about what is going to happen, at times more so than the romance. This is definitely an intriguing book and one that will have you desiring more knowledge of this "prohibited" family.

Book Info:

Publication: Published July 4th 2017 | Harlequin Desire |
From playboy to papa!
Kendall Ross's latest PR assignment is the perfect jump start for her career. But her client is hotel magnate Sawyer Locke–the no-holds-barred one-night stand she had six weeks ago. Sawyer knows the feisty redhead is the key to successfully launching his new hotel, but with his meddling father sabotaging his business plans, they have to keep their arrangement strictly professional. As in, no kisses. No fondling. And certainly no mind-blowing sex! Yet when their best-laid plans end with an unexpected pregnancy, the rebel billionaire must choose between his bachelor ways or losing Kendall and his baby for good!