In Pregnant by the Playboy Surgeon by Lucy Ryder, ER doctor Danielle Stevens has worked hard to put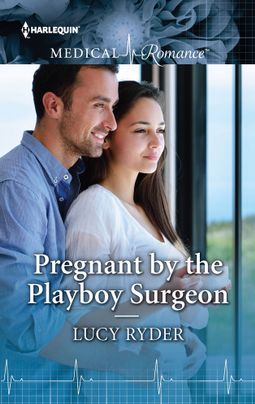 her unhappy marriage behind her. She doesn't have time for distractions, but she can't seem to resist gorgeous surgeon Dylan St. James. But when they spend an incredible night together, Danielle never considered the consequences; consequences that would have Dylan running from their shot at a future when he learns the truth. Will Dylan and Danielle to able to help each other to heal from their pasts to achieve happy ever after or will Dylan break Danielle's heart?
You don't ask for much, do you?"
"Are you telling me the rumors are wrong and you are just a pretty face?"
The look he sent her was filled with an irritated kind of exasperation. "What did I tell you about listening to gossip, Dr. Stevens?" he demanded, taking her arm and steering her to the door. "And, for your information, men aren't…pretty."
This is the third book I've read by Ms. Ryder and I'm a little addicted to her sublime writing style. Really, her main characters are incredible, especially the sexy heroes that go to great lengths to win the heroine's heart; the dialogue of this story was highly entertaining right from the moment this couple meet, which was cute and made me laugh because of the heroine's reaction to the hero; and the tough obstacles these two had to overcome had me wondering whether the hero would be able to win the heroine over since she's decided to take a break from men.
"No!" she practically yelped, knocking his hand aside and backing up a couple of steps. "Not that there's anything wrong with that, but no, I am not into…Sheesh!" Rolling her eyes, she blew out an exasperated breath. "You are such a…a guy!"
"Guilty," he murmured, eyes wicked. "But I'm glad."
"Glad?"
"That Sweet 'n' Sassy isn't batting for the other team."
With the main characters, I absolutely loved the hero. He's confident, kind, caring, fun, a good doctor and I loved how forward he is when it comes to some of his interactions with the heroine. Really, he made me laugh and smile and I enjoyed his determination to win the heroine over and show her that there are men she can trust. While the heroine, I couldn't help but sympathize with her because of all that she's been through and it's understandable why she doesn't trust men. However, in saying that, I liked that the heroine took a chance on the hero because the more she got to know him, the more she found he was nothing like his playboy reputation and that he is a good guy. Yet, what I liked most of all about the heroine was her resilience and courage in finding a way to bounce back from her horrible marriage and move on. She can't allow her ex to stop her from relationships forever.
Overall, Ms. Ryder has delivered another fantastic read in this book where the main characters back stories and the obstacles they face to be together were fascinating; the medical drama was entertaining; the chemistry was tangible and convincing; the romance was delightful and had me hoping for the best for this couple because Dylan and Danielle need each other to heal from their pasts; and the ending had me loving the hero's determination to win the heroine's heart. Certainly, he challenges her to face what's really going on instead of hiding the truth from him. Will Dylan finally get to the truth of what Danielle's secret? However, it was the epilogue that wrapped this story up perfectly because this couple deserve all the happiness they've found together and I liked that Danielle gave Dylan what he wants most. I would recommend Pregnant by the Playboy Surgeon by Lucy Ryder, if you enjoy medical romances, workplace romances or books by authors Meredith Webber, Susan Carlisle, Susan Mackay and Annie O'Neil.
Book Info:

Publication: March 21st, 2019 | Harlequin Medical |
A red-hot night…A nine-month consequence!
After an unhappy marriage, ER doctor Danielle Stevens has no interest in men – let alone a playboy like sexy surgeon Dylan St James! But after discovering that he works at her hospital, she finds he's also her neighbour! And he becomes increasingly impossible to ignore…or resist. One passionate night later Dani and Dylan are facing some unexpected consequences. But is Dylan ready to go from fling to fatherhood?