Prince's Son of Scandal by Dani Collins is the fourth book in her Sauveterre Siblings series. It's about two sets of twins – Henri and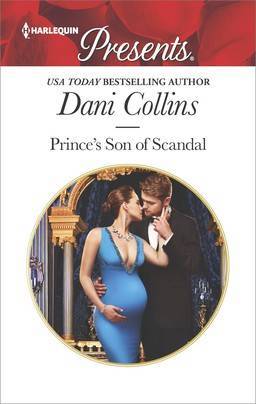 Ramon, and Angelique and Trella – who come from a mixed Spanish and French heritage. Internationally renowned, wealthy and successful, everyone but Trella has found a partner. But that all changes when she meets the sensually seductive Xavier, Crown Prince of Elazar.
When Trella was nine, she was kidnapped and sexually molested before being tracked down and rescued. As a result, she's spent the ensuing years dealing with panic attacks and other symptoms of PTSD. Her family has been very supportive of her in her recovery and she shares a special almost psychic bond with her twin sister Angelique. Determined not to be held captive by her fears, she occasionally goes out pretending to be Angelique. On one such occasion she meets Xavier and spends a night of passion in his arms. It wasn't intended to be anything more than a one night stand, one which helped Trella realize that it might be possible for her to have a real relationship one day.
But that all changes when tabloid photos of a kiss they shared on their night together combine with more recent pictures showing Trella pregnant! Xavier is determined to find out the truth, and when he finds out the child is his, he insists on a marriage of convenience, just long enough to make his heir legitimate. Trella's struggles to overcome her mental challenges are eclipsed only by her fierce devotion to her child. Their desire for each other is unmatched, but will it lead to a real marriage after all?
I really enjoyed this sexy and emotional romance. I'd read a few of the other ones and was familiar with the family dynamics, and how the siblings reacted to Trella's kidnapping. But I felt very strongly for Trella as she shares what happened to her with Xavier, and as he helps her when some of her attacks are overwhelming. There were several times this story brought me to tears. The author does a good job of showing how Trella copes now without going into too much detail about her past (for those concerned with personal triggers).
The baby is a game changer for her and Xavier and though she'd planned to raise the baby herself, she believes in his right to be a father. As they spend time together they are able to recapture the feelings that brought them together and they share a sensual reunion. Xavier isn't sure what love really is, having never gotten the emotional support from his parents and grandmother that he needed. It's a direct contrast to Trella's loving and supportive family. It takes Xavier a while to realize that the emotions he's feeling for Trella are worth fighting for. Eventually they get their happy ending and their baby makes their family complete. It's my favorite of the series and I'm looking forward to what this author will be writing next!

Book Info:

Publication: Dec 19, 2017 | Harlequin Presents | The Sauveterre Siblings #4
Carrying the prince's secret heir!
For one night, reclusive heiress Trella Sauveterre throws off the fear-ridden shackles of her childhood abduction–succumbing to a sizzling seduction, she falls unexpectedly pregnant! Deeply uncomfortable in the spotlight, Trella can't bear a high-profile pregnancy and keeps the identity of her baby's father hidden…Then a tabloid photo of a scorching kiss implicates Crown Prince Xavier of Elazar in the scandal. He'll do anything to claim his shock child–even kidnapping Trella! Now Xavier must legitimize his son. And it'll be his pleasure to make Trella his royal bride!