Every Dog Has His Day by Jenn McKinlay: Zach loves his job, his friends, and his bachelor lifestyle. After being crushed be his ex, he's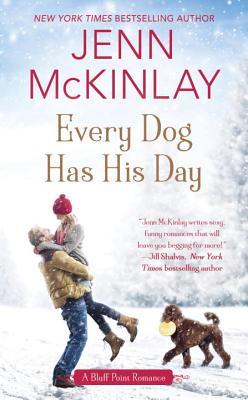 determined to fully commit to the single life. He's happy for his friends who have recently started pairing off, but he doesn't see the appeal.
Jessie is starting to put the pieces of her life back together. She has a good job, she's started to repair the rift of her past poor decisions, and she has two adorable little girls. She's happy to be rid of her cheating, lying ex-husband, but she's also exhausted trying to do it all as a single parent. It doesn't help that she's fostering Chaos, a kitten who can be as troublesome as the name indicates.
Zach and Jessie had a memorable run-in months ago when she laid into him. He hasn't forgotten the sexy spitfire, but he thought it was best to leave well enough alone. Only when he's forced into rescuing Chaos does he learn that his next door neighbor is none other than Jessie and her daughters. He wants to get to know her, and riding out a major snowstorm together gives him that chance.
"How did you know?"
"I heard your phone going off," he said. "I figured you freaked out and texted the crew."
"I did." Jessie bit her lip. "Was that bad form? I'm sorry. It's just that I'm on unfamiliar ground here and I haven't had anything to text anyone about-"
Jessie isn't used to having someone around, especially someone so good at dealing with her girls. Since Zach grew up with many sisters, he is adept at dealing with tantrums, broken hearts, and drama. It is adorable to watch Zach and the girls bond so quickly and grow attached. Jessie is another story, as they navigate their insane chemistry and her ex-in laws. Zach's tight-knit group of friends are definitely a presence and are more than willing to offer both their sage (and not so sage) advice.
"Were we going to talk?" he asked. She glared at him and he released her.
"I'm trying to figure out what I want to say, you know, without a lot of swear words," she said. She waved the knife at him and he leaned back. "I just can't believe you."
"At all, in general, or at the moment?" he asked. "Can you give me a little more to go on here?"
Every Dog Has His Day is a sweet, endearing, heartwarming read that is perfect for the holidays. Jenn McKinlay found a way to redeem and humanize Jessie after an interesting and scandalous past. Ms. McKinlay provided great banter, a fun cast of characters, some drama and conflict, and scene stealing new additions of Jessie's kids and Chaos the kitten. This book can easily be read as a standalone in the Bluff Point series. Fans of Liora Blake, Ruthie Knox, and Nicole McLaughlin will enjoy Every Dog Has His Day.
Book Info:

Publication:  January 2nd 2018 | Berkley Books | Bluff Point #3
A stray kitten and a rambunctious poodle bring together a small-town bachelor and a single mother in the latest romance set in Bluff Point, Maine.
Bluff Point brewery owner Zachary Caine wants nothing to do with commitment. His wild bachelor lifestyle suits him perfectly—until a foster kitten named Chaos makes him a reluctant hero. Now he's BFFs with the kitten's two little girls and finds himself falling for their gorgeous mother, who couldn't think less of him.
Divorced mother Jessie Connelly wants nothing to do with men like Zach. He's sexy and charismatic and bad news, just like her ex. But her girls adore him, and he's doing a good job filling in for their deadbeat dad. Then a snowstorm brings out the best in both neighbors, who, it turns out, have more in common than their mutual attraction…
So when Jessie's past threatens her and her girls, Zach is determined to do whatever it takes to protect them—and live happily ever after with this family he has made his own.