Protecting His Assets (Deuces Wild #1) by Cari Quinn is an erotic romance about injured MLB pitcher, Chase "Deuce" Dixon and Summer Maitland, an aspiring songstress. Since Summer is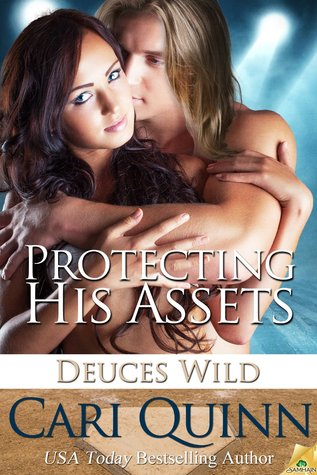 Chase's kid sister's best friend, they have known each other for years. They are two people who are able to find love and solace while navigating their dreams.
Chase's injured arm has deemed his MLB future full of uncertainty. It is the off-season and he is now a free agent, spending his time with medical experts in hopes of determining the best way to get his arm back into prime pitching condition. In addition, Chase is exploring options without baseball, including a career in security, as he takes a job as a bouncer at a NYC nightclub to gain some perspective.
Summer is finally branching out from her sheltered, small town life. Although know one knows about it, she lives to perform in order to share her harmonious voice with the world. Singing keeps her grounded and she is hopeful one day she will get her big break. She has always lusted after Chase and when he prevents a drunken fan from overstaying his welcome, sparks ignite. It is at this moment that Chase makes a decision to become Summer's bodyguard.
Summer's vocals are so mystical, they put Chase in a hypnotic state.
Chase and Summer make an interesting couple. Their attraction is instantaneous and hot. They are both sexually deprived, so when they get together, their scorching connection is palpable. Ms. Quinn's ability to write steamy and sensual sex scenes is always something to relish.
I liked this book, even though I found the plot in the first half of the book a little slow and lacking some punch. The second half was engaging, nicely-paced and eventful. I especially liked the secondary character Jax, Chase's on and off again best friend. Jax comes across as devilish with a sensitive side. His relationship with Chase's sister seems like a story waiting to be told.
Book Info:

Publication: January 14th 2014 by Samhain Publishing | Series: Deuces Wild Book 1
She's the one woman who can get his ball back in play…
For a while, MLB pitcher Chase "Deuce" Dixon used his bad-boy reputation as a smoke screen to cover up his elbow injury. But plummeting pitching stats don't lie, so now he's a free agent, spending the off-season in surgeons' offices, and considering a post-baseball career in security.
His first night moonlighting as a nightclub bouncer, he's surprised that the singer on stage is his little sister's pure, sweet, spitfire of a best friend. And some drunk guy is getting way too personal.
Summer Maitland doesn't need Chase strong-arming one of the few fans she's managed to accumulate during the career she keeps secret from her family. And despite her body's shimmering reaction to his touch, she certainly doesn't need a self-appointed bodyguard following her around.
Chase has other ideas. If anyone's going to lay a hand on Summer, it's going to be him. Now if only he could keep his tongue out of her mouth long enough to keep her safe. And his hands to himself before he scares her off.