In Punk Rock Cowgirl (Blackberry Cove Cowboys #1) by Kasey Lane, when her reign as a popular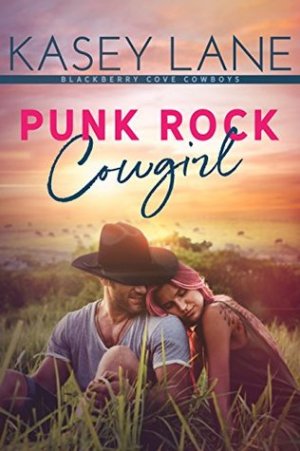 punk country crossover artist comes crashing down leaving her desperate and needing money quick, Kendall Kelly knows there's only one place she can go and that's her hometown. However, she's not likely to get a warm welcome there, especially from her soon-to-be ex-husband Damian Sloane after what she did to him. But when they both inherit her grandmother's farm, will Damian and Kendall be able to work things out or will they lose their second shot at forever after?
"Now what?"
"Well, sweetheart, you heard the lawyer. You move in or, if you want out, you buy me out. Should be a fairly simple transaction for a big star like yourself."
Her pale skin turned pink. Her short temper was a thing of beauty and his dark side yearned to set fire to it again. "First off, you're my husband in name only. You don't deserve even one mud cake of this dirt pile. Second, this is not my home. It never was. You and everybody else made that perfectly clear."
What a fascinating and entertaining read Ms. Lane has delivered in this first book of her Blackberry Cove Cowboys series, which started brilliantly with the heroine feeling uncomfortable in her hometown and then coming face-to-face with her soon-to-be ex-husband, which is hard since it's palpable she's still in love with him. Is the pair being together really too impossible? Will the hero be able to convince the heroine that she's the one for him, no matter what anyone thinks of her? Will the hero be able to convince the heroine to stay and fight for their future together?
As for the dialogue, it was engaging from start to finish and intense due to the main characters back stories because the heroine believed she was doing the right thing for Damian by what she did in the past. In some ways, I could understand her motivation for leaving Damian since Damian's father is an absolute jerk and the heroine's late grandmother wasn't any better. They made Kendall feel nothing more than if she was the dirt on their shoes. How could she possibly be comfortable living in her hometown when people made her feel like that? Yet, in saying that, I liked how resilient and courageous the heroine was and how she's accomplished so much, even though she's going through her struggles at the moment. Will she be able to overcome the trouble she's facing when it comes to her music career? I also liked how determined she was to make things right with the hero, which is proven by everything she does in order to make him understand why it was so hard for her to stay and fight for their relationship in the past. Something that couldn't have been easy with most people making her feel worthless.
"Stop it," she said with such a stern look on her face.
"But you're all contrite and stuff." He kissed her nose.
"Shut up and let me finish." She smiled but didn't laugh. "It's okay if you don't feel like I do. But I love you. I've never not loved you."
While the hero, he's confident, hard-working and I liked how good he was to Kendall and for Kendall. She needs someone in her life to treat her with respect and not the appalling treatment she's received for years from people she should have been able to rely on. I also liked how willing the hero was to help the heroine when it came to her career situation and how great it was to see his relationship with his mother turn a corner in going from them barely speaking to each other to a nice son-mother bond. Yet, what I liked most of all about the hero is how he finally stood up to his dad and didn't let the man come between him and Kendall this time around.
Overall, Ms. Lane has delivered a really good read in this book where the chemistry between this couple was strong from the moment they came face-to-face and just kept getting better with every obstacle they face to be together; the romance was special, as these two are so deserving of their second chance; and the ending had me loving what the hero does to show the heroine he supports her and that he isn't going to let anything stand in the way of their second chance. Besides, the surprise she had for him was just icing on the cake for their future. I would recommend Punk Rock Cowgirl by Kasey Lane, if you enjoy second chance romances or books by authors Jane Porter, Megan Crane, Nancy Robards Thompson and Shelli Stevens.
Book Info:

Publication: March 27th, 2018 | Tule Publishing | Blackberry Cove Cowboys #1
When Kendall Kelly's career as the free spirited punk country crossover queen ends in a fiery ball of doom and humiliation, she has no place to go but back to her hometown Blackberry Cove, California, where she abandoned her secret husband years ago without so much as a note. She's hoping to pick up the pieces of her shattered life and finally cut the last tie to the only man she ever loved.
As part owner of Kelly Family Farms, Damian Sloan has spent the last few years rebuilding the floundering business into a growing organic farm. He thought he'd moved on from his broken heart, but when Kendall barges back into his life—broken but beautiful as ever—he soon realizes he hasn't forgotten. Or forgiven. Kendall threatens everything he's built, but he can't quite turn her away.
Damian and Kendall must put aside their differences for the success of the farm they both depend on. Maybe, in the process, they can rebuild what they tragically lost.