In Quiet in Her Bones by Nalini Singh, Author Aarav Rai is already recuperating from an accident,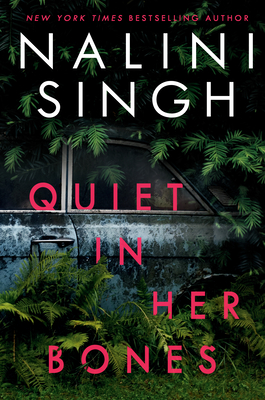 mentally and physically, when the moment he's been waiting a decade for happens: his missing mother has been found. Unfortunately, Nina Rai didn't survive the car wreck that appears to have taken her life and that hid her car from anyone's view in the thick New Zealand forest canopy. It's when the police start asking questions that Aarav realizes there was foul play involved. And it's also when he begins to question his recollection of the events that led up to her disappearance that stormy night ten years ago.
'This was a quiet place, a place that whispered that humanity was an intrusion that would be swiftly forgotten once we were gone.'
Aarav's childhood was not necessarily a happy one. Or at least not all of the time. But his mother made up for his father's cold, often harsh ways. That's why he was so devastated a decade ago when she seemingly took off with a boatload of money…without him. Knowing now that she met a much more sadistic end, Aarav does some sleuthing of his own to narrow down what happened. As he does, he discovers much more than he bargained for. Because beneath the glossy exterior of the multi-million dollar homes in the cul-de-sac is a whole lot of ugliness and lies. But Aarav is determined to find the truth.
'The more I learned about what had happened that night, the more I felt like I didn't know anything. There were too many secrets, too many things I couldn't remember.'
Be prepared for surprising plot twists and to question who you can trust among the characters in Quiet in Her Bones, Nalini Singh's new atmospheric thriller set deep in the dangerous New Zealand forest.
'I didn't care about a court case–I cared about justice. An eye for an eye. A death for a death. Whoever had turned my mother into bones in the quiet green deserved the same fate.'
Trigger warning: View Spoiler »Infidelity, murder, domestic abuse, drug/alcohol abuse, suicide. « Hide Spoiler
If Nalini Singh writes it, I will read it, no matter what genre. That being said, I will caution readers that this is not a happy story that will leave you with a big grin on your face. Quiet in Her Bones was a remarkably well-written thriller that had a main character who was an unreliable narrator, mainly due to the circumstances in which Aarav found himself. It left the reader wondering what was real–and what was left out of the narrative. Because as the story built and truths were separated from lies, the picture Aarav had in his head drastically changed.
Aarav's life was not an easy one, even if he had been born into privilege. And the remote cul-de-sac he lived in growing up, a wealthy neighborhood carved out of the New Zealand forest, was filled with dark secrets. Especially in his own home. My heart did go out to Aarav for the things he witnessed and with how the disappearance of his beloved mother shaped him into a manipulative, borderline uncaring man. It was as he attempted to piece together what really happened the night his mother vanished that Aarav began to remember bits and pieces of his own life at that time, making him–and in turn, the reader–wonder what was real.
Quiet in Her Bones was a novel that chilled me to the bone, where everyone was suspect, and which kept me guessing until the final chapter. If you're a fan of thrillers that will mess with your mind and hold you captive, Nalini Singh's latest will definitely be for you.
Book Info:

Publication: Published February 23rd 2021 | Berkley Books |
In this gripping thriller set in New Zealand, New York Times bestselling author Nalini Singh takes you into the twisted world of an exclusive cul-de-sac located on the edge of a sprawling forest.
My mother vanished ten years ago.
So did a quarter of a million dollars in cash.
Thief. Bitch. Criminal.
Now, she's back.
Her bones clothed in scarlet silk.
When socialite Nina Rai disappeared without a trace, everyone wrote it off as another trophy wife tired of her wealthy husband. But now her bones have turned up in the shadowed green of the forest that surrounds her elite neighborhood, a haven of privilege and secrets that's housed the same influential families for decades.
The rich live here, along with those whose job it is to make their lives easier. And somebody knows what happened to Nina one rainy night ten years ago. Her son Aarav heard a chilling scream that night, and he's determined to uncover the ugly truth that lives beneath the moneyed elegance…but no one is ready for the murderous secrets about to crawl out of the dark.
Even the dead aren't allowed to break the rules in this cul-de-sac.