Racked and Stacked (Blacktop Cowboys #9) by Lorelei James: It's not role-playing, it's alternate reality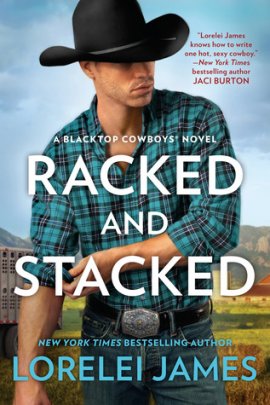 according to Larissa "Riss" Thorpe. That's how Riss explains her "not-so-truthful" adventures in Ike Palmer or Clem from Texas as Riss claims his name is when in Runnings, a ranch supply store in Casper, Wyoming on their "first date." Riss identifies herself as Clem's wife Bootsie who busted her arm (see the full cast on her right arm) chasing coral snakes in Texas. She explains to the clerk that she even asked her surgeon to create a fake snakeskin cast; to no avail. How's that scenario for a first date?
Racked and Stacked is the latest addition to Lorelei James' Blacktop Cowboys series. It's chock full of fun with witty bantering between heroine, Riss Thorpe and Hero, Ike Palmer, poignant scenes where the hero and heroine have revelations of past life mistakes, some "sweet" hugs and also sexy times. I really like these two characters and thoroughly enjoyed their definite up-hill climb to a Happily Ever After.
Come join the sexy times and fun battles between Riss and Ike. You'll be glad you are along for the ride.
Book Info:

Publication: August 7th 2018 | Berkley | Series: Blacktop Cowboys #9
Opposites don't just attract in the West–they sizzle–and Wyoming has never been hotter than in the latest sexy Blacktop Cowboys® novel from the New York Times bestselling author of Hang Tough.
Growing up with three older brothers, Larissa "Riss" Thorpe defines the term tomboy–a moniker that never mattered to her until she crossed paths with sexy cowboy playboy, Ike Palmer. His declaration that he prefers his women soft and feminine is the one benefit to becoming his business partner. Since Riss is obviously not his type, there's little chance they'll mix business and pleasure when they're in close quarters on the road together.
Former cattle broker Ike Palmer was ready for a new chapter in his life when he partnered with Riss, a contrary redhead who lords her mechanical abilities over him at every turn. Ike raised his three younger sisters; he knows a thing or three about how women work. The problem is…Riss is unlike any woman he's ever met.
With the odds stacked against them, Riss and Ike will have to choose between the stubbornness that keeps them apart and the fiery attraction that could lead to something more…