Do or Die Cowboy (Dark Horse Cowboys #1) by June Faver: The cowbell on the door at Tiny's diner in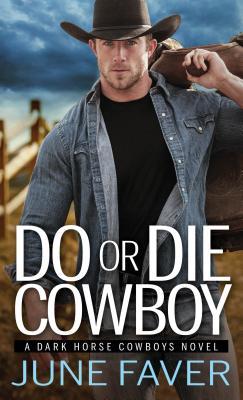 Langston, TX sounded and cowboy/singer Tyler Garrett looked to see who was walking into the diner. Tyler didn't recognize the lovely woman or the child who entered but he did see the fear in their eyes. Having a White Knight personality, Ty wanted to do something to erase that fear but the best he could do is pay for their meals. They left before Tyler but did stop to say thank you.
Tyler meets them again further down the road when he finds them with their broken-down car. He sees the car needs a part so he tows them to their destination – Gran's ranch. Leah Benson and her daughter Gracie are very grateful and Gran invites Ty to dinner in gratitude. Ty has a few days to spare before heading to Dallas for his tryout for Texas Country Star. After all Ty is very attracted to Leah. He needs to see where this attraction leads them.
Do or Die Cowboy is book #1 in author June Faver's Dark Horse Cowboys series. June Faver is a new author to me. The blurb for this book enticed me to check it out. I am now a June Faver fan. She does a super job of fleshing out her characters. They just sort of reach out and draw you in.
This is a very entertaining story with some surprises snuck in. The 'Wow I didn't see that coming" kind! If you enjoy fun characters and heart-warming romance then this is the book for you.
Book Info:

Publication: Expected publication: August 28th 2018 | Sourcebooks Casablanca | Dark Horse Cowboys
Putting it all on the line for love…
Cowboy musician Tyler Garrett has a once-in-a-lifetime chance to put aside his rough-and-tumble rancher's lifestyle and realize his dream. He's on the road to Dallas to record a demo when that dream gets kicked sideways by a beautiful woman on the run.
Leah Benson will do whatever it takes to keep her daughter safe. But when her dangerous past catches up with her, she needs a hero–and luckily for her, Tyler Garrett was born and bred for the role.