Raising the Stakes by Karen Rock: Vivienne Harris moves from the Bronx to an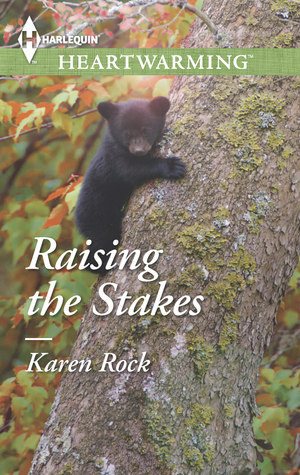 old farmhouse in the Adirondack Mountains. She has her diner, The Homestead, her dog Scooter, and her cat Jinx. One night a bear cub enters her home. Liam Walsh, a DEC officer, is supposed to put down the orphaned cub. Vivi begs him to save the cub, so he brings the bear to a rehabilitation facility.
The cub, now named Button, is adorable. Vivi becomes very attached to Button and wants to keep her safe. She takes an exam so she can take care of the animal on her property. A forest fire burns down Vivi's home and the bear enclosure. There are other sad moments. Vivi moved from the Bronx because she was attacked, raped, and cut. Liam's dad died when he was seventeen, his mom suffers from Alzheimer's. Liam joined the military.
He doesn't stay in one place too long, Vivi hides. She transfers her yearning for safety to Button by being fiercely protective. Liam decides to move to Yellowstone. At his sister's wedding in Manhattan, Vivi is haunted by memories of the past. The love Liam and Vivi have for each other will make them question whether their respective patterns need to change.
"She told him she didn't need a hero, but it was wonderful to have one around."
I really enjoyed Raising the Stakes. It was my first time reading Karen Rock, and she kept me fully engaged in the story. Button was so cute, I wanted to hug her (even though she's a bear). I was rooting for Liam and Vivienne all the way through. They were a great team. They were both loving people who've had to deal with cruelties.
I recommend Raising the Stakes to everyone who likes animals and the outdoors. If you don't, I still recommend you pick up a copy, for the sweet love story.
Book Info:

Publication: April 1st 2015 by Harlequin Enterprises
Hiding from the world…
Tucking herself away in the Adirondack woods was supposed to keep Vivienne Harris safe. From dark memories of the Bronx, from danger, from entanglements. But when an orphaned bear cub raids her pantry and conservation officer Liam Walsh appears with news of poachers nearby, her private, peaceful world is turned upside down!
Suddenly two forces are drawing her out—Button, the cub who needs her help, and Liam, the man who's dead set against her rehabilitating the bear. If she can just win Liam's support, Vivie knows she can give Button a good life. And maybe find the courage to embrace a future with Liam…