Twice as Daring by Sami Lee is the fourth installment in the Dare to Love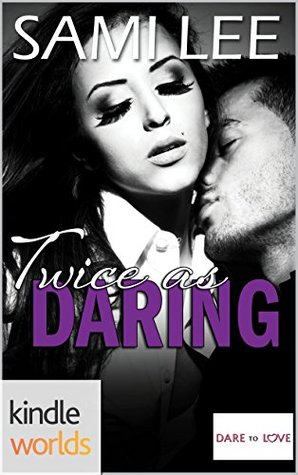 novella series from Kindle Worlds. Author Carly Phillips developed the "Dare" family and each novella created under the Dare to Love umbrella, includes some of the characters and/or settings from her original, ongoing series. This story focuses on publicist Abby Lehman and NFL sensation Sam Cormack. The Dare's own the Miami Thunder football team.
Abby enjoys her job in pubic relations, so when she is assigned to the Miami Thunder account, she is truly a happy camper. However, her happiness is short-lived as Sam the Australian punter becomes a thorn in her side. He does not listen and seems to go out of his way to make her job difficult. In addition and ironically, Abby has some strong feelings of lust for the good-looking troublemaker. Sam desires Abby as well and reverts to childhood-like shenanigans in order to keep her close. One night of uncontrolled lust turns into many evenings together, which evolves into much, much more.
This story began and ended with a wonderful excitement. And although the pages in-between were heated and sexy, they were also predictable and reserved. The Australian expressions Ms. Lee entwined into the story were amusing, well-placed and caused me to chuckle on more than one occasion. In addition, I was able to identify with both of the main characters and really liked Abby's approachable personality. Another welcome addition to the series.

Book Info:

Published March 22nd 2015 by Kindle Worlds | Dare to Love
Publicist Abby Lehman likes her job—until she finds herself working as a glorified babysitter for cocky-as-the-devil NFL star Sam Cormack. Sam is unpredictable, unruly, impossible—and also impossibly sexy. It has taken all Abby's willpower to keep from throwing herself at him like one of his groupies. When her boss insists she accompany Sam to a black tie restaurant opening, things heat up even further. And when she finds out Sam has also been lusting after her she throws caution to the wind and indulges in a hot tryst with him that threatens her career as well as her heart.
Sam knows he screwed up with Abby and curses his impulsive nature. Making love to her was something he'd wanted for a long time, but he should have taken things slower with her, made sure they got to know each other. Now she thinks he only wants her for sex, just when Sam's realizing she's the first woman to make him want the real deal in a long time.
Can he make her believe he's ready to put his playboy days behind him and start something real with his Miss Right?