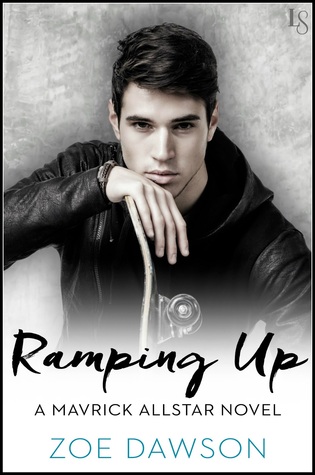 Ramping Up by Zoe Dawson: Gunner's finally left surfing, and his abusive father, behind him wanting to be held no longer by the obligations that held him to his father. He's not so interested in going back to sports, not when he knows it'll only enrage his father and cause backlash on his hidden away sister and mother, but along comes Helena, top sports agent, and she wants him for his skateboarding skills.
At 24, Gunner's a little late in the game, but Helena knows he can get to the top. She just has to convince him, and make sure his father doesn't hurt Gunner's chance. But as Gunner and Helena become closer and closer, Gunner knows his father will only set his sights on Helena to get Gunner to do his bidding, and Gunner can't let that happen.
As romance blooms, they hide it from the world. Gunner to protect Helena, and Helena because no romances are allowed with clients at her agency. They just can't seem to resist one another.
She laughed softly, genuinely, and I felt like I'd just done a full cab. She turned to me with mischief in her eyes. "You want some?"
Those words pretty much ramped me up. Hell, yeah, I wanted some, all night long.
Her gaze hit mine and shoe colored, and it looked so pretty on her.
Ramping Up definitely has a cool setup. I love a female sports agent, and skateboarding is an awesome sport to showcase when the usual is football, hockey, or baseball. I also definitely appreciated the heat between Gunner and Helena, there was clear external conflict with them being together, although, less so on the emotional development side.
I feel like I missed on the development of the relationship, the author chose to skip over much of the development part. Instead focusing on the athletics aspect, both in discussing skateboarding and the business side.
Even so, I did find Gunner enjoyable, if coming across a bit to young boy-man for me, and Helena, for the most part, I liked following. Ramping Up was certainly an interesting story. For athlete romance fans I'd recommend Ramping Up by Zoe Dawson.
Book Info:
Olivia| 2.5 Stars | Nope! | No |
Publication: June 21, 2016 | Loveswept | Mavrick Allstars #1
The world of extreme sports just got a little steamier! Zoe Dawson's pulse-pounding, emotional series follows the wily young female agents of Mavrick Allstars as they chase their dreams—and meet the chiseled athletes who make them come true.
Helena "Lena" Mavrick is ready to prove that she can play with the big boys. Working at her father's internationally renowned agency, Mavrick Allstars, Lena sets her sights on one of the most coveted phenoms out there: a twenty-four-year-old surfer caught ripping it in a viral skateboarding video. Signing him would be a huge win—and his marketing appeal isn't the only thing that makes Lena's heart skip a beat. Trouble is, fraternizing with the client is against company policy.
Professional surfer Gunner Smith lives under the absolute control of his coach—until he takes the ultimate risk and starts over as a skateboarder. Gunner swore he wouldn't give up his freedom again, but Lena's out-of-the-blue offer makes him think long and hard. She's smart, she's bold, she's got sponsors lined up around the corner—plus she's drop-dead gorgeous. He's just not sure his coach will let him get away that easily, because he's not just Gunner's coach, he's also his father.
Gunner is used to hiding his tortured past. But when his steamy affair with Lena threatens their future, he must decide whether he will sacrifice everything for the woman who's stolen his heart.