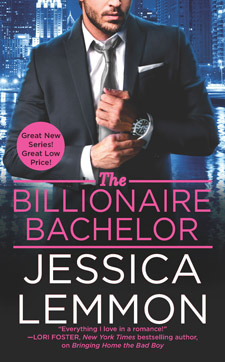 The Billionaire Bachelor (Billionaire Bad Boys #1) by Jessica Lemmon: Whether is it Bad Boys or Billionaires, Jessica Lemmon had the recipe to make an amazing story and make you want more! The first book in her new series Billionaire Bad Boys is a Frei-enemy to lovers book. This is the start to what will be AMAZING! This is Reese and Merina's story.
Merina Van Heusen has grown up in her families hotel. She not only loves everyone that works there, she loves the hotel its self. It is an historic landmark, a phoenix that has risen from the ashes of the Great Chicago Fire. When she learns that not only has her parent been keeping their financial troubles from her, but also the fact that they have sold the beloved hotel to Crane Hotels, she will stop at nothing to get the hotel back, even if it means selling her soul to the devil himself.
Reese Crane wants nothing more than to step into his father's shoes as CEO of Crane Hotels. But the stockholders and the board are not impressed with his playboy ways. Needing a solution to clean up his reputation and sway the board in his favor, he hatches a plan that involves marriage to Merina Van Heusen, for 6 month, in exchange she will get her hotel back free in clear after they divorce.
But what started out as a business deal to get Reese the CEO position and Merina her hotel, soon turns into something very real, as they share things with each other that neither have ever shared with anyone before. Soon their arrangement feels like more and the cold house that Reese has avoided for years now feels like home, a home that he and Merina can build together.
What I really enjoyed most about this amazing story is that both Merina and Reese are so similar. They have both been burned in the past. It makes them untrusting and unwilling to let down their guard at first. Yes, they have chemistry. Yes, both start to open up to each other, but Reese is so afraid of his feelings that he pushes Merina away, and in the end, almost losses the best thing that ever happened to him.
I love that Merina can see through Reese when he tries to put up walls, and will push him to open up to her, will call him on his bull. Both characters are strong and protective and slightly damaged and that is what makes them so perfect for each other. Another amazing start to what I am sure will be another AMAZING series by Jessica Lemmon and I cannot wait until the next book in this series.

Book Info:

Expected publication: June 28th 2016 | Forever | Billionaire Bad Boys #1
Indecent Proposal
Manwhore. That's what the board of directors-and the tabloids-thinks of billionaire bachelor Reese Crane. Ordinarily he couldn't care less, but his playboy past is preventing the board from naming him CEO of Crane Hotels. Nothing-and no one-will keep him from his life's legacy. They want a settled man to lead the company? Then that's exactly what he'll give them.
Merina Van Heusen will do anything to get her parents' funky boutique hotel back-even marry cold-as-ice-but-sexy-as-hell Reese Crane. It's a simple business contract-six months of marriage, absolute secrecy, and the Van Heusen is all hers again. But when sparks fly between them, their passion quickly moves from the boardroom to the bedroom. And soon Merina is living her worst nightmare: falling in love with her husband . . .