Raw Rhythm by Cari Quinn and Taryn Elliott  is book six in the Found in Oblivion series and if you've been following this series from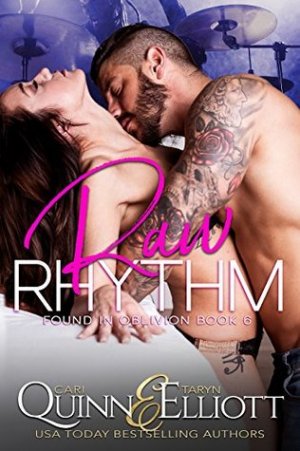 the beginning, then like me, you've been waiting for this book. Malachi Shawcross and Elle Crandall have chemistry and in Raw Rhythm, it all comes to a boil.
Mal insists he isn't a hero, but he becomes one when he saves Elle on stage. A beam was falling on stage and Mal got to Elle just in time and saved her. When Elle wakes up in the hospital, she's full of questions. Starting with why Mal would save her, when it's clear that he hates her. Hate is a strong emotion but it's not what Mal feels for her. Mal comes off as not caring about anyone, but it's the exact opposite. He cares deeply.
Elle's arm is damaged and she needs time to get it back to working shape; to find out if she'll ever play guitar again. Elle is a former addict and when she slips up, Mal is there to put her back to rights.
"I haven't played doctor in a while."
"How long's a while? Twenty years or twenty days?"
He nearly smiled. "I use a different kind of stethoscope when I play now."
Elle doesn't have a good track record with men. They take advantage of her and leave. Mal insists he's bad for her and tries to keep his distance, but they become closer and can't fight their attraction to each other anymore.
Raw Rhythm is full of gritty and honest emotions. The authors killed off a favorite character and brought two people together in the middle of a tragedy. Elle and Mal are complete opposites but complete each other. Tons of feels in this book. Mal really shines in this book. He's protective, sexy, and different from how he appears. I loved how he was with Elle. Raw Rhythm was certainly worth the wait! Highly recommended to those who enjoy rockstar romances!

Book Info:

Publication: November 29th 2017 | Rainbow Rage Publishing | Found in Oblivion #6
Saving her was his addiction.
When Warning Sign drummer Malachi Shawcross first saved Elle Crandall, he put her in a box in his head—do not touch. Not that she remembered him anyway. Then he joined her band, and he got to spend every night behind the kit watching her shred on her guitar.
Hating himself for wanting her.
But that was before the night the band he'd never wanted to join became his family. The night he had to make a choice to save someone, and someone else was lost.
Of course he saved Elle. He'd do it every damn time.
Though she's filled with guilt, Elle survived—with scars. With her reason to stay clean gone, even temporarily, she's tempted to be bad.
Oh so bad.
Until Mal's unexpected help as she recovers turns into something else entirely. She never expected him to offer her another kind of addiction, one just as dark and dangerous as the chemicals she craves.
Him.
But with the band under siege from a threat from the past, Mal is no longer fighting to keep from falling for the one woman he shouldn't.
He's fighting to keep her alive.