In Reach for the Stars by Kathy Jay Layla Rivers has been with her boyfriend for twelve years. They planned a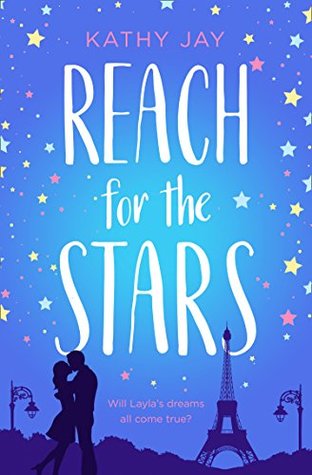 trip together but when Layla finds out that her mom was in a bad car accident, she cancels the trip. Only problem is…her boyfriend still decides to go without her. To be honest, Layla's better off. He didn't seem to care about what she wanted to do on their trip and he was painted as being very selfish. And while Layla is worrying about her mom, the whole town, along with Layla, finds out that the former boyfriend got married. Layla heads out to the cottage to hide but finds Nick Wells half naked and sleeping on the sofa.
Nick is an actor. He's going through some tough moments, as well. He just found out he has a daughter…an eleven-year-old daughter. On top of that, his girlfriend dumped him and he has a black eye. While Nick stays at the cottage, him and Layla get to know each other better. In fact, Nick and Layla embark on a fling. Nick's already told Layla that he is not a forever guy, and Layla assured him she was fine with a heat of the moment thing.
"I only care about right now, with you, and the ways we please each other."
Nick offers to take Layla to Paris, while he's having a photo shoot and even though she's always dreamed of Paris she declines. But when she finds out the ex-boyfriend is coming home and bringing his new wife, she changes her mind. Paris is a turning point for Layla and Nick, but Nick's hectic world gets in the way.
Layla is such a nice heroine. She does everything for everyone. Seriously, she does so many jobs around town, when she should be concentrating on her art. She's a people pleaser. But, she never speaks up for herself, until Nick. I liked Nick and Layla together, but I didn't love them. There was too much going on, on both sides, to make me think they were in love with each other. Overall, I liked the story, but didn't love it. Don't take my word for it, please read it for yourself.

Book Info:

Publication: February 9th 2018 | HarperImpulse |
From heartbreak to the best mistake they'll ever make…
When Layla Rivers' boyfriend of 12 years skips out on their round-the-world trip of a lifetime – without her – she does what experience has taught her to do best, hide away in the cosy Cornish village she calls home. But any hopes of laying low soon disappear when Hollywood's hottest star & mutual acquaintance, the gorgeous Nick Wells, crash lands on her couch…naked!
For Nick, Cornwall is supposed to be an escape from both his problems and the limelight, yet as the stars align and disarming Layla bursts into his world, his life only gets more complicated.
Will Nick and Layla fight against the undeniable connection between them or, under the warmth of the Cornish sun, will they follow their hearts' desires?