Read, Write, Love at Seaside by Addison Cole: Leanna is a bit of a mess. She flits from job to job, her one constant being her summers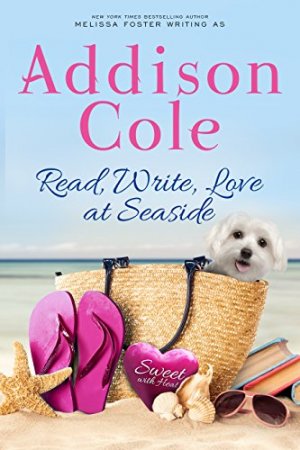 in Cape Cod. This summer, she's taken over a jam business for a friend who passed away and for once she's seeing a future in what she's doing. She just has no idea if she can actually follow through and plan, especially when romance comes along most unexpectedly.
Kurt spends his life writing his dark thrillers with little break. No one can tear him away, especially when he's on deadline, and he's visiting his Cape Cod house this summer on deadline. Crashing into his life comes Leanna and her dog Pepper, bringing all her chaos and destroying the peace and serenity he strives for to write.
But for once, Kurt finds himself not minding his distraction. Leanna teaches Kurt about finding a life and joy in others. Kurt provides a stability Leanna never knew she needed. But what is so good between them might be ruined when Leanna's business begins taking off. How can she choose between the man who's stolen her heart and the career she finally wants to build?
I like the idea of an author turning her books sweet, but it doesn't work here. All the sexiness, language, everything is the same. But now the characters say "Gosh" and "darn," and only the sex is cut out a bit abruptly. Honestly, it just feels a bit weird while reading.
My favorite parts of the story were Kurt and Pepper. I like the strong and silent type of hero. I liked that Leanna drew him out. I liked his discipline. I didn't get why he liked Leanna. She was a mess. And she was insecure about it. I wanted her to be truly confident, instead she kept apologizing. But if she felt that way about her lifestyle, why not change it? I found it difficult to root for a heroine who couldn't root for herself.
Read, Write, Love at Seaside is a cute romance. It's short, simple, and an odd mix of sweet and sexy. I definitely like the setting and community built, as well as the total opposites attract happening. I just wished I liked the heroine more, and that their conflict had a bit more depth. By the middle point, they were happily in love and I felt a bit bored. When the trouble came, it wasn't hard.
But for those who want an opposites attract sweet romance, I recommend Read, Write, Love at Seaside. The first in the Sweet with Heat series, it's a fun start,

Book Info: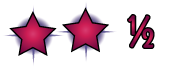 Publication: June 14, 2017 | World Literary Press | Seaside Summers #1
In READ, WRITE, LOVE at SEASIDE…
Bestselling author Kurt Remington lives to write. He spends twelve hours a day in front of his computer, rarely leaving the seclusion of his beach-front property, where he's come to finish his latest thriller — that is, until free-spirited Leanna Bray nearly drowns in the ocean trying to save her dog. Kurt's best-laid plans are shot to hell when he comes to their rescue. Kurt's as irritated as he is intrigued by the sexy, hot mess of a woman who lives life on a whim, forgets everything, and doesn't even know the definition of the word organized.
Leanna's come to the Cape hoping to find a fulfilling career in the jam-making business, and until she figures out her own life, a man is not on the menu. But Leanna can't get the six-two, deliciously muscled and tragically neat Kurt out of her mind. She tells herself she's just stopping by to say thank you, but the heart-warming afternoon sparks an emotional and unexpectedly sweet ride as Kurt and Leanna test the powers of Chemistry 101: Opposites Attract.