Reading the Sweet Oak by Jan Stites is book about friendship, forgiveness, finding yourself, letting go of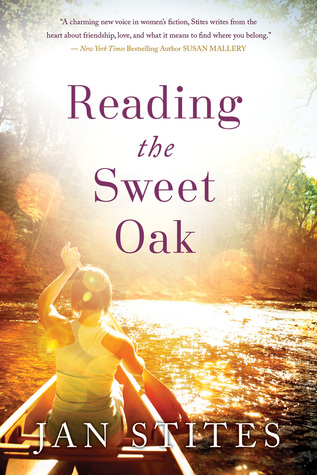 the past and finding love. This is the story about five amazing women each with their own issues, yet each are their to lend love and support to each other.
Each character added something wonderful to this story. BJ with her ELS (Empty Life Syndrome), Ruby wanting see her grand-daughter happily married, Pearl struggling to accept her grandson's recent revelation, Jen's strained relationship with her mother, and Tulsa's aversion to romance in general, each of these women pulled at something in me.
The author did an amazing job weaving a picture of the experiences and troubles that each woman faced, and it allowed me to connect with them on a personal level.
I found myself laughing with them, crying with them, silently cheering for each of them. Reading the Sweet Oak by Jan Stites is the first book that I can remember reading by this author, but it will not be my last.

Book Info:

Publication: Published September 29th 2015 | Lake Union Publishing |
Along the banks of the Sweet Oak River, deep in the heart of the Ozarks, a romance novel book club takes five women on stunning journeys of self-discovery.
After losing first her husband, then her daughter, seventy-eight-year-old grandmother Ruby wants to teach her risk-averse granddaughter, Tulsa, that some leaps are worth taking, no matter how high the potential fall. Tulsa loves her grandmother dearly, but she has a business to run and no time for romance—not even the paperback version. But when Ruby ropes her into a book club, Tulsa can't bring herself to disappoint the woman who raised her.
Together with Ruby's best friend, Pearl, as well as family friends BJ and Jen, the women embark on an exploration of modern-day love guided by written tales of romance. What they discover is a beautiful story that examines the bonds of friendship and the highs and lows of love in all its forms.