Rebecca's Lost Journals, Volume 1: The Seduction (Inside Out Novellas #1): This is super, super short. 40 pages, I believe. I think it must be some kind of marketing thing for Lisa Renee Jones new series, the Inside Out Trilogy.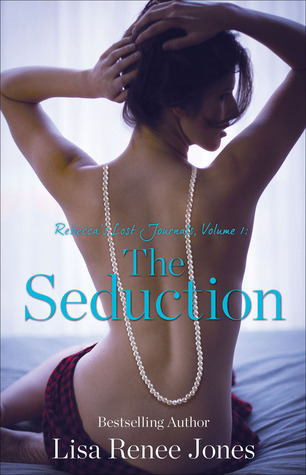 Either way, if you're going to purchase this novella, do yourself a big favor and purchase at least all 4 of these novellas (there are a total of 5).
You're going to get this little taste of the story and I promise you: You'll want NEED more!
This first one was a little emotional for me. We kind of meet Rebecca Mason, since these are her journals. At first, I felt a teensy bit voyeuristic at the thought of reading her journals, even if she is a fictional character. But that feeling is fleeting as Rebecca draws you in to her unhappy life. Geez, my heart broke for her! Her mom had recently died and had revealed some kind of secret to Rebecca and it sounded like the secret kind of blew Rebecca away.
But Rebecca has something of an epiphany one day and realizes, essentially, that she's pissing her life away and she's going to have no one to blame but herself. So she decides to go out and go after her dreams. She wants to work at an art gallery. She's loved art for as long as she can remember and even got an education in it. But after her mom passed and the bills stacked up, chasing dreams was put on the way back burner. Until now. Chasing those dreams leads her to meet Mark, who has Rebecca feeling things that she's never felt before and doing things she never thought possible.
Book Info
A hot new erotic story by New York Times and USA Today Best Selling author Lisa Renee Jones…
In part one of Rebecca's Lost Journals, The Seduction, Rebecca meets the rich, darkly alluring man who will draw her into a passionate, intense affair and tempts her into erotic experiences she never thought she would dare.
Connection to The Inside Out Trilogy that has recently been optioned to STARZ for TV with Suzanne Todd (Alice in Wonderland w/Johnny Depp) producing and includes exciting clues for the series readers but stands alone as it's own exciting erotic story. 
Also in the series:
Part Two: The Contract
Part Three: My Submissive
Part Four: My Master
 The Inside Out Trilogy includes IF I WERE YOU, BEING ME, and REVEALING US