First, start off by reading my review of Rebecca's Lost Journals, Volume 1: The Seduction. You can find it here.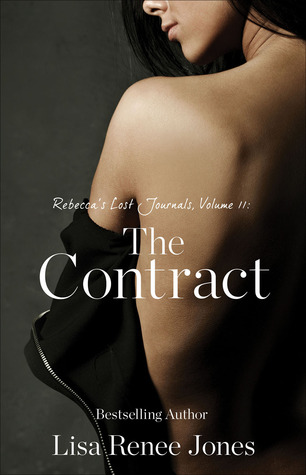 Ok, now that we've got that cleared up, let's move on…
Rebecca's Lost Journals, Volume 2: The Contract picks up pretty much where we left off in Volume 1. Rebecca has met Mark and they've gotten to KNOW each other (wink, wink). But now, Mark wants Rebecca to be his submissive and to be his exclusively. But what does that mean? And what does that entail? Can Rebecca be submissive to anyone, really? She's had to take care of herself for a good portion of her life. Can she give control to someone else? Does she even want to??
We really get a sense of Rebecca's unease and confusion here. This would be a great read for someone who is new to BDSM romance/erotica. Rebecca is asking herself a lot of questions that I think most people would ask when confronted with a BDSM or Dom/sub relationship: Why would you want this? Does this make me weird? How far does this go?
Rebecca has a lot of questions and she really doesn't get a lot of answers. At least, not the ones she wants or was expecting.
This is a very interesting premise because we're only seeing bit and pieces of Rebecca's life and we're only seeing them from her point of view AND only after the fact. So its all very one sided. I found that I had a hard time liking Mark at all and I'm still really not trusting him at all. But Rebecca is fully into him and wonders if she could be falling in love with him and I'm not feeling that for him at all. Maybe this is how the author wants us to feel?
I can tell you one thing though… I'm going to stop writing this review and go pick up If I Were You right where I left off. I have GOT to find out what the heck is happening!!! LOL!
Book Info
Publisher: Pocket Star (February 18, 2013)
A hot new erotic story by New York Times and USA Today Best Selling author Lisa Renee Jones…In part two of Rebecca's Lost Journals, The Contract, the relationship between Rebecca and her rich, darkly alluring man intensifies and she must decide just how deep she will go into his into his intensely erotic world.
Connection to The Inside Out Trilogy that has recently been optioned to STARZ for TV with Suzanne Todd (Alice in Wonderland w/Johnny Depp) producing and includes exciting clues for the series readers but stands alone as it's own exciting erotic story.
Also in the series:
Part One: The Seduction
Part Three: My Submissive
Part Four: My Master
The Inside Out Trilogy includes IF I WERE YOU, BEING ME, and REVEALING US