Recipe for Persuasion by Sonali Dev: Ashna has been dealing with one blow after another for much of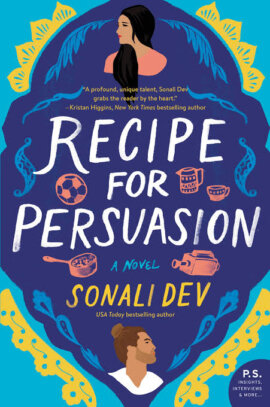 her life, the latest being her need to save the restaurant that she hold so dear to her heart. When her friend is looking for a chief to fill a space in a new reality cooking show, Ashna jumps at the chance after all what could be the worst to happen, she is a chief after all. Well that is until her past pushes his way into her present.
Pro footballer Rico has nothing but time on his hands, after an injury to his IT band has put him out of the game. After attending the wedding of a close friend if his, Rico begins to question why has he never been able to settle down. With both his body and his ego bruised Rico decides to use his celebrity status to work his way into the role of Ashna's partner in the cooking show she has just joined. You see Rico and Ashna were childhood sweethearts but after Ashna rejected his young heart, he never really recovered and now Rico wants some answers.
"After all those years of forcing myself not to give in to the yearning to search for you, it was the best thing I ever did, because it led me back to you, back to the me I had lost. I don't know how to be me without you."
I have to say this was very half and half for me, I can't say I did not enjoy this book, but at the same time I can not say it was a wow read for me. I will say the authors previous novel was a much better take on the Jane Austen retelling. However in saying this Dev has done a good job in delivering a multi layered story, we get to see Ashna's background and how she had to deal with her parents unhappy marriage, a cruel mother and her alcoholic father. Where as when it comes to Rico the focus is more on his future and his story with Ashna, rather than looking into his past.
"He slid across your kitchen on his knees— after surgery— to keep you from getting hurt. Please tell me you see what that is? That's love tinged with madness, love that takes you out of yourself. That's not love you take lightly, Ashi."
I will say that I found the blurb slightly misleading, I went into this book expecting a cute romance but what I got was a rather heavy complex read. This novel was filled with alcoholism, parental neglect, emotional abuse and family guilt. In saying this I will add that putting all the heavy topics aside this was an interesting story. In terms of our two lead characters; my heart broke for Ashna, she really had to deal with a lot guilt from her family. As for Rico I think he did Wentworth proud, he was everything you would want in a hero.
Overall I felt that the author over explained where it was not needed and then skimped on details that would have been helpful and this added to the darker note of this novel, really was not a major winner in my opinion. I will say the most redeeming quality of this novel for me was Rico's love for Ashna and how pure and how it had no bounds.

Book Info:

Publication: May 26th 2020 | William Morrow  | The Rajes #2
From the author of Pride, Prejudice, and Other Flavors comes another , clever, deeply layered, and heartwarming romantic comedy that follows in the Jane Austen tradition—this time, with a twist on Persuasion.
Chef Ashna Raje desperately needs a new strategy. How else can she save her beloved restaurant and prove to her estranged, overachieving mother that she isn't a complete screw up? When she's asked to join the cast of Cooking with the Stars, the latest hit reality show teaming chefs with celebrities, it seems like just the leap of faith she needs to put her restaurant back on the map. She's a chef, what's the worst that could happen?
Rico Silva, that's what.
Being paired with a celebrity who was her first love, the man who ghosted her at the worst possible time in her life, only proves what Ashna has always believed: leaps of faith are a recipe for disaster.
FIFA winning soccer star Rico Silva isn't too happy to be paired up with Ashna either. Losing Ashna years ago almost destroyed him. The only silver lining to this bizarre situation is that he can finally prove to Ashna that he's definitely over her.
But when their catastrophic first meeting goes viral, social media becomes obsessed with their chemistry. The competition on the show is fierce…and so is the simmering desire between Ashna and Rico.  Every minute they spend together rekindles feelings that pull them toward their disastrous past. Will letting go again be another recipe for heartbreak—or a recipe for persuasion…?
In Recipe for Persuasion, Sonali Dev once again takes readers on an unforgettable adventure in this fresh, fun, and enchanting romantic comedy.