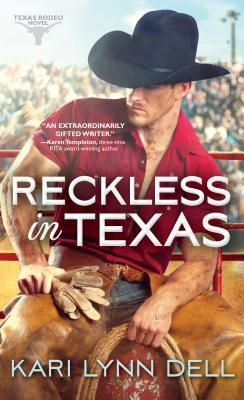 In Reckless in Texas by Kari Lynn Dell, Violet Jacobs needs help. Not only is she the rodeo pick up lady, saving cowboys from bucking horses, but she's trying to help run her family's struggling rodeo, Jacobs Livestock. When the rodeo needs a bullfighter, she thinks she snagged a man to do it. The man she got, however, wasn't who she expected.
Famous bullfighter Joe Cassidy had his heart set on eventually running Dick Browning's ranch, High Lonesome. When a fistfight with Dick's son causes a verbal fight with Dick, fellow bullfighter and best friend Wyatt encourages Joe to take the job with the Jacobs rodeo. What he found there was the last thing he thought he would outside of High Lonesome–a place to belong.
I enjoyed Violet. She's a strong woman who doesn't put up with anyone's bull. When her father refuses to listen to her ideas to expand and better the rodeo, she still proceeds to figure out a way to do so, with Joe's help. She was also great mother to her young son, Beni.
I liked Joe, but I found myself frustrated with him at times. He was so set on taking High Lonesome over one day that he was willing to put up with the poor treatment he received from Dick. A couple of times Violet asked herself where was his self-respect, and I wondered that myself. Wyatt sent him to the Jacob's ranch because he knew Joe needed to completely break ties with Dick, or he would never get away and continue to be in a situation where he was constantly degraded.
Wyatt snorted. "Real happiness requires having a soul, compassion, actual relationships. Dick will suck all of that out of you eventually. You'll end up a gnarly, cussed old man like all the Brownings, dying alone on the High Lonesome."
"At least they died in a place they loved."
Wyatt stared at him for a long moment. Then he closed his eyes and shook his head. "The trouble with places, Joe? They don't love you back."
I found Wyatt to be an interesting character. He would always show up out of nowhere, right when either Violet or Joe needed help. He always seemed to know what they needed when they didn't know themselves, and he helped them to recognize it. I hope he eventually gets his own book.
While I enjoyed the characters, I also enjoyed learning about rodeos. The book provides a good glimpse into what takes place behind the scenes of a rodeo and what it takes to run one.
Reckless in Texas is a story about discovering where you truly belong and finding a family when you least expect it. If you enjoy stories about cowboys, strong women, and rodeos, you're in for a treat with this one.
Book Info:

 August 2, 2016 | Sourcebooks Casablanca |
Violet Jacobs is fearless. At least, that's what the cowboys she snatches from under the hooves of bucking horses think. Outside the ring, she's got plenty of worries rattling her bones: her young son, her mess of a love life, and lately, her family's struggling rodeo. When she takes business into her own hands and hires on a hotshot bullfighter, she expects to start a ruckus. She never expected Joe Cassidy. Rough and tumble, cocky and charming, Joe's everything a superstar should be-and it doesn't take a genius to figure out he's way out of Violet's league.
Joe came to Texas to escape a life spiraling out of control. He never planned on sticking around, and he certainly never expected to call this dry and dusty backwater home. But Violet is everything he never knew he was missing, and the deeper he's pulled into her beautiful mess of a family, the more he realizes this fierce rodeo girl may be offering him the one thing he never could find on his own.