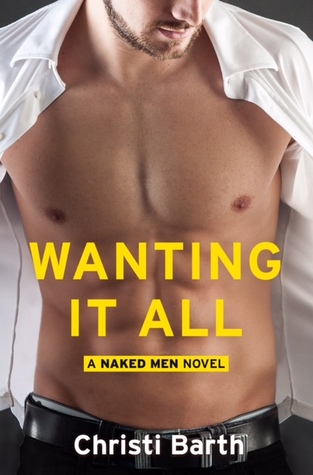 Wanting it All by Christi Barth: After a youth of nerdy-ness and being the odd genius out, Knox has made it his life goal to always be on top and moving on – from women to business. The only constant in his life being the friends he loves as family and his mom. But when Alaskan Madison comes into his life, the first woman to challenge him, and, of course, one of the sexiest woman he's ever met, Knox might have to change his life rules.
Madison moved to D.C. for her newly discovered half-brother, and awesome job at the Library of Congress, and to complete her goal of finding love and creating a family. The first man she meets his Knox, and already he's pretty high in the running for marriage – only, he wants nothing to do with commitment.
Knox can't stay away and Madison is prepared to woo him to a serious relationship despite his warnings. But soon enough, this budding relationship is on the rocks as it's discovered Madison's half-brother is one of Knox's best friends, and it might just mean Knox has to choose between the two.
"More to the point, you haven't eased back from me yet. In fact, you've put both your hands on my chest."
"Maybe I wanted to check out the muscles that hauled me away from near-death."
Knox liked this woman. Liked her take-what-I-want style. Her brashness. "Maybe we should start exchanging names before you name my pecs."
Wanting it All is cute and sexy and funny, and I loved it a lot more than I thought I would. It's the pretty cliché manwhore millionaire genius, but Barth makes it interesting with the introduction of Madison. Her persistence and utter confidence in herself is absolutely wonderful. And seeing her at odds with Knox, making him rethink all his views from business to love, is a fantastic ride.
I can't say this story came with a lot of surprises, but it's a clever ride and a fun voice. The community of characters, too, is wonderful to join. I definitely know I want to read the others in this series. It's an intriguing premise, too, with this group of friends who were trapped for several days, wounded. It binds them together and introduces interesting and understandable personalities.
I highly recommend Wanting it All for those who want their billionaire with a fun twist. They're not at all perfect, but it feels real as this relationship slowly grows from casual to serious. I just loved both characters and this world.
Book Info:

 August 9, 2016 | Loveswept | Naked Men #2
In the follow-up to Risking It All, hailed by Lauren Layne as "the perfect escapist read," the heartthrobs of the Naked Men blog and podcast get a little too real about friendship, love, and sex. For one wealthy bachelor, the trouble starts when all three collide. . . .
After narrowly surviving a bus crash in high school with his best friends, science geek Knox Davis resolved to become so successful that he could have anything and everything he wants. Now he's über-wealthy, a huge business success, and a notorious ladies' man. Knox refuses to limit himself to one woman, but when his latest conquest—a blond beauty from the Alaskan bush—challenges his superficial ways, Knox begins to see the world through her eyes, and finds he likes what he sees.
A nurturer at heart, Madison Abbott wants to put down roots. She left Alaska to meet Mr. Right—and to track down Logan, the half-brother she's never met. Instead, she finds Knox. Although the sexy-as-sin bachelor may not seem like marriage material, Madison's starting to think that Knox is The One. But Knox refuses to settle down, especially once he learns that Madison is his best friend's little sister. Now it's up to her to convince Knox that she's everything he really wants.