Redeem Me by Eliza Freed, the second book in the Lost Souls series, is a great read that makes you think about what you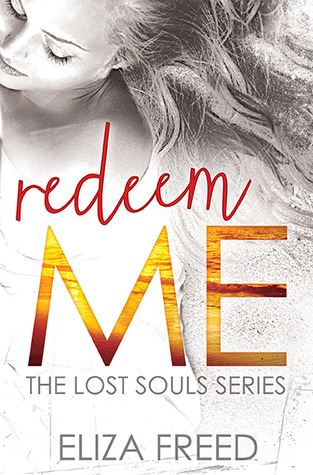 would do in the main character's situation. Charlotte Annie O'Brien has tragically lost both of her parents. In her grief, she begins seeing Jason Leer. They have two years of happiness until it falls apart. Charlotte becomes deeply depressed and withdrawn. Her brother Sean is very worried and calls in reinforcements. A trip to the Jersey Shore with her best friends Margo and Jenn starts her on a different path.
As I read, I felt for Charlotte. It is easy to say "get over it" but it is not always easy to do. She begins to look after Butch, Jason's father. Butch, a widower, is also depressed, withdrawn, and not taking proper care of himself. Parallels can be drawn between the two characters.
Of course, Charlotte reconnects with Noble Sinclair, a possible love interest. She has not however been able to move on, still constantly thinking about Jason and what they shared. What happens when the perfect man comes along and you're still in love with someone else? I liked Noble's character immensely, a man who would always love and care for her. I also felt bad because he did deserve better. She flip flops throughout. It was frustrating that she couldn't let go and move on but it was perhaps realistic.
There are religious undertones in this story but I didn't feel overwhelmed by them. Redeem Me is the first of Eliza Freed's work I have read and I think I will go back and read the first story, Forgive Me. The book flows well and has many characters to root for. I enjoyed this story and can't wait to see what happens next for Charlotte, Noble, and Jason.
Book Info:

Publication: February 3rd 2015 by Forever Yours
Charlotte O'Brien should forgive God for her parents' death. She should forgive her boyfriend for his one horrific mistake that separated them, and she should forgive herself for cutting them both off, but instead she hates everyone.
But when her childhood friend Noble Sinclair arrives, his passion reignites the spark that had vanished so completely in Charlotte's gray existence. And in Noble's arms, Charlotte finally begins to wonder if she might be ready to choose the future with Noble over her shattered past.