Reforming the Rock Star by Christine Bell is a welcome addition to the Rockstar/Plain Jane romance trope. In this story Lazlo Stone, guitarist for the hot rock group Rift, falls hard for the caterer of his best friend's wedding, up and coming chef Sydney Metcalf.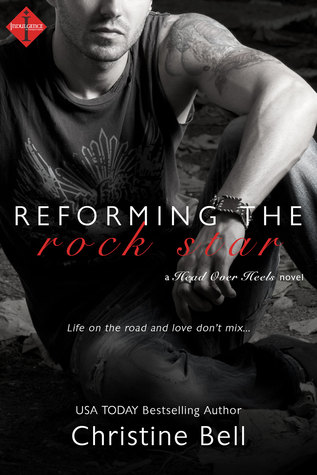 Sydney is also the best friend of the bride, Callie, which to begin with is a sticky situation because Callie knows a lot about Laz's romantic past.
While Callie has had a lot of time to get used to the paparazzi and the women throwing themselves at her soon to be husband Jake, the lead singer of Rift, Sydney has had no experience with being in the limelight. In addition, Sydney grew up extremely poor in a trailer park, and as a result, the hurt and insecurities experienced during her childhood remain a huge part of her adult life. She is finding love with a rock star to be overwhelming, amazing and most of all, liberating. Laz has never met someone as honest and sweet as Syd, which he finds to be a total turn on.
Laz and Syd have a nice chemistry, which is all due to the sexual build-up from Ms. Bell. Their relationship was slightly predictable, but engaging nonetheless. There were a few laugh-out-loud moments, in addition to some clever comments like, "She so didn't want to blow it and make things weird with Laz, but she hadn't even gotten to see his twig
and berries yet." I loved the way Laz's honesty gave Syd the confidence she so separately needed, and how Syd included Laz in her daily activities, which made him feel like an ordinary person, for the first time in a long time.
Overall, I liked this story. I enjoyed the real friendship between Syd and Calli, and how they were always there for each other. I loved how Laz stood up for Syd when her nemesis from high school put her down, which was both a funny and poignant moment. The fun and romantic epilogue was a wonderful ending.
Book Info:

Publication: September 29th 2014 by Entangled: Indulgence
When Sydney Metcalf's bestie asks her to cater her wedding, Syd can't say no, even though the thought of going back to her hometown makes her break out in hives. She's off to a great start until best man and rock god Lazlo Stone calls with a request for her to cater the bachelor party too. Petit fours adorned with rose petals, she can handle. A cake shaped like boobs for the sexiest guy in the universe? She's not so sure. But this is the chance of a lifetime and she refuses to screw it up by being a prude…
When a sexy stripper dressed as a Plain Jane crashes the bachelor party, Laz is all about getting vertical and making some music with her. Too bad his stripper is really the caterer and the bride's best friend. After a kiss between them blazes out of control, he can't seem to stop thinking about sweet little Syd.
But everybody knows, life on the road and love don't mix…