In Switch Me On by Jule McBride, When Ari Madden spots Bruno Brandt in the local bar, she knows he's trouble. But her body doesn't heed her warnings as she lets herself get swept up that night in the gorgeous guy's arms. Their chemistry is absolutely off the charts and it soon becomes apparent that one night may not get Bruno out of Ari's system. However, she's on the cusp of starting a new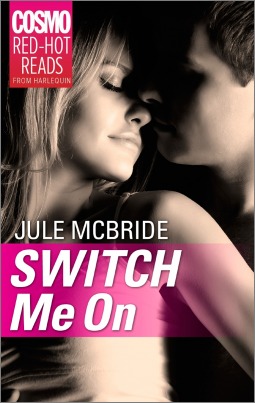 life for herself and doesn't have time for a relationship. Too bad that Bruno, aka Mr Electric, didn't get the memo. His pursuit of her might be what finally helps Ari settle down and contemplate more than just a fling.
'For the first time in her life, she felt she'd met her match. A man who wouldn't let her hide. A man who really wanted to know who she was, deep down.'
Energy specialist and engineer Bruno Brandt may be a geek who has two PhDs and owns his own helicopter, but he is never lacking in female companionship. After a life changing event about a year earlier, he's taken it upon himself to live life to the fullest. And Bruno decides that he wants beautiful Ari in his life. She's not only stunning, but she's full of fun and has the sexiest voice he's ever heard. But it won't be easy to win Ari's heart. Bruno's heard all about her aversion to relationships. He knows that he's the one who can finally win her over, though, because they are simply meant to be.
"I've got PhDs in physics and engineering, but the energy between you and me is a mystery I can't figure out."
Switch Me On is a Cosmo Red Hot Read that had some very steamy, memorable love scenes plus a surprising plot twist that completely changed the dynamics between our main characters.
Bruno and Ari started off as a case of opposites attract at the beginning of the story. He's a rich geeky guy, and she's a free-spirited local gal. But I liked how as it progressed we learn about Bruno's sexy alpha side. Who knew he'd have such a filthy mouth? And Ari began to think about more than just one night with him, letting herself get past her fear of possibly settling down in the future. It turned out they had more in common than they imagined which is always fun to read about.
I will admit that I had a bit of tough time getting into this novella. I'm not sure if it was just me, but I had to get to know the characters better before I could wrap my head around the storyline. I think once the big surprise came to light, that was when it all came together and I enjoyed myself from there on. Like I said before, as always with a Cosmo Red Hot Read, there were smokin' hot love scenes that were a nice combination of tender and dirty. And there may even be a scene with some love in an elevator… 😉
Overall, Switch Me On is an interesting contemporary romance that brings the sexy as well as a fairly complex plot for such a short story.
Book Info:

Published September 10th 2014 by Cosmo Red Hot Reads from Harlequin
Some girls are made for the city
Successful voice-over artist Ari Madden has been planning her escape from Blackwater Inlet for years. In three more weeks, she's making tracks—away from her cloying family, the gossip mill and her rep for rejecting local men who threaten her dreams. So it's definitely the wrong time for a total stranger to start delivering sexy shocks to her lady-circuits.
Bruno Brandt meant to unwind in his new getaway cabin in Podunkville, not get recharged by a red-hot woman with small-town blues. Outrageous, sultry Ari sparks him like a live wire, though, convincing him their fling will never be enough. He's a world-class whiz when it comes to anything electric, but can he do what no man ever has before—jump-start Ari's desire to commit?