Relentless in Texas (Texas Rodeo #6) by Kari Lynn Dell: Carmelita "Carma" White Fox has a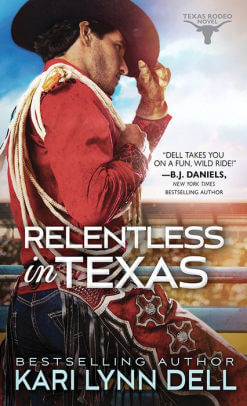 special talent. She can sometimes sense a person's emotions as an INFJ, "introverted, intuitive, feeling and judging person. The super-empath." It seems INFJ people are really good at picking up on non-verbal tells and knowing how humans normally act they can sometimes predict the future. Carma also can help sooth tense moments and relax stress. All this make no difference when her long-time boyfriend, rodeo rider, Jayden dumped her. Meeting Gil Sanchez at a fundraiser where she was performing her rope tricks was a positive event in her life, albeit a very short interlude.
When her grandmother set her on a journey to visit equine-therapy sites to gain knowledge to set up an equine-therapy clinic for the Blackfeet Carma knew she'd see Gil again. Her final planned stop was the Patterson Equine-Therapy Clinic where her cousin lives and where the chief physical therapist, Tori Patterson-Sanchez, Gil's sister-in-law resided. A bad hamburger which brought on a bad case of food poisoning led Carma to Gil much sooner than she expected. Now to see if their blazing attraction to each other still burns.
Gil Sanchez runs Sanchez Trucking with his father and wild-bronc-riding brother, Delon. He is thirteen years sober and thanks to innovative surgery after he messed up his hip badly – dropped his motorcycle on a highway going way too fast – he finds himself in great physical shape. Since making his last trip to the Blackfeet reservation and meeting Carma he can't get her out of his head. What a surprise when she parks her van outside Sanchez Trucking's office in search of a restroom to throw up in and ends up blacking out. He can't let her get away this time. She offered him a raincheck and he intends to cash that raincheck in. She makes him feel whole again. When he gets the okay to get back to bronc riding again he knows he has to give it a shot at the Diamond Cowboy Classic Rodeo. Carma agrees to stick by him and support him. Gil wonders if she will agree to stick by him forever.
I have really been looking forward to Gil's book. I wondered what kind of woman would be his match. This author sure hit spot on with this couple. I love how they interact with each other and both try to give the other everything they need. I also enjoyed reading about Gil's stupid "he's just a male" mistakes. Carma is one tough cookie with a big, loving heart. Gil is a very complex character being a recovering alcoholic, a workaholic running the family trucking company, a loving father not sure of the job he is doing with his son. He needs someone like Carma in his life.
One of my favorite things about this series is how how family and friends step up big time when one of them is in need. Both Gil and Carma become beneficiaries of this love. The authentic rodeo scenes make me miss the rodeo visits I did at the San Antonio Stock Show and Rodeo the last few Februaries. I have a real hankering to go to a rodeo every time I finish a book in this series.
Book Info:

Publication: June 30th 2020 | Sourcebooks | Texas Rodeo #6
There's a reason they call this cowboy relentless
Gil Sanchez was once rodeo's biggest and baddest hotshot. Now he's thirteen years sober and finally free of the pain that ended his skyrocketing career. Given one last, near-miraculous shot to claw his way back to rodeo glory, he can't let fantasies of happily-ever-after dull his razor edge…but Carmelita White Fox is every dream he's never let himself have.
And from the moment he saw the spark of challenge in her eyes, he hasn't been able to look away.
Carma may come from a Blackfeet family noted for its healing abilities, but even she knows better than to try to fix this scarred, cynical, and incredibly sexy cowboy. Yet she's the only one who can reach past Gil's jaded armor, and the fiercely loyal heart buried beneath the biting cynicism is impossible to resist. Gil needs Carma just as much as she needs him, but as the pressure builds and the spotlight intensifies, they'll have to fight like hell to save the one thing neither can live without.