Wicked Designs (The League of Rogues #1) by Lauren Smith: is a very promising beginning to a new series. "The League of Rogues" are a group of five noblemen who are doing their best not to conform to how society expects noblemen to act; they are unruly and dutiful mamas warn their daughters not to get involved with them. Fortunately, orphaned debutante and heiress Emily Parr has a good friend who warned her against the League, letting her know that they were "men without rules and morals."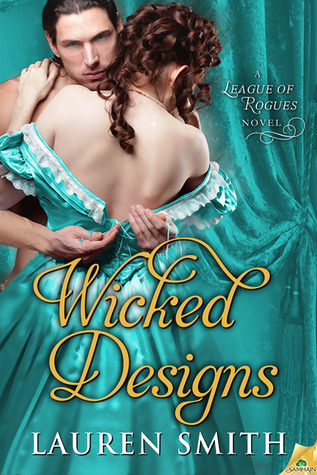 However, this warning does her no good when she is unexpectedly kidnapped by the League, headed by Godric St. Laurent, the Duke of Essex. Godric is handsome and daring, but very damaged—he does not believe that he can love or be loved in return. Godric has seized her on the way to a ball because Emily's uncle Albert Parr, who she lives with, has cheated Godric out of a great deal of money, and he wants revenge. Emily, initially thinking that she has been kidnapped by highwaymen, puts up a surprising and vigorous defense. Although she is captured and subdued in the end, the group of rogues are impressed by her beauty, spirit and intelligence. Godric, in particular, is struck by unfamiliar feelings of affection and compassion.
"He felt oddly possessive of Emily, not that he had any right to. Still, the sudden urge to deposit the girl in a walled garden appealed greatly. Trap her in a tower like a princess from a fairy tale."
When Emily awakes the next morning, she is shocked and appalled to find out that she has been kidnapped by Godric St. Laurent and the rest of the League of Rogues, and that she being held in a room adjacent to Godric's bedroom. She knows that she is now utterly ruined. Emily does not like her uncle Albert, and has deep suspicions that he had secretly betrothed her to his vile client Thomas Blankenship in payment for banking debts, and was hoping for a good match to a nice man. Now her only hope is to get Godric to make up for his crime by marrying her. Godric, for his part, can offer her nothing more than a place as his mistress.
What ensues is a bevy of adventures. Emily is no shrinking violet—she takes advantage of every opportunity to escape and get the best of the rogues. All the rogues turn out to be very charming, and much more caring and compassionate than Emily expects. And, all the while, she is falling for Godric's charms.
"Godric's thumb stroked the sensitive plane of her palm, yet the seemingly innocent contact teased her body with a desire for something she did not understand. With that simple truth, all thoughts of her uncle and her parents evaporated. His touch made her want to follow him to the ends of the earth to see where it might lead."
Godric, for his part, gradually rediscovers that tender part of his psyche that was lost when his mother died in childbirth and his father became very distant. There is a nice developmental arc here, with Godric getting past his childhood hurts to become a fuller, more realized person. Emily is brazen, intelligent, and clever, and her never-ending effort to get away even as she comes to like the League of Rogues is amusing and shows tenacity. If this were a movie melodrama, Thomas Blankenship would be the very picture of a mustache-twirling bad guy, since he is very evil and highly intriguing. He is described as having a "demon inside him with claws, salivating teeth and cold fire churning in his black eyes."
In general, I enjoyed this book. I felt it dragged a little in the middle, and I found some of the Godric/Emily "do I care for him?/does she love me?/oh, I hate him!" interactions verging on the tedious, mostly because it went on for a tad too long. But it starts well, ends great, and I found it an altogether satisfying read. I look forward to the next one in the League of Rogues series, especially since the other rogues are such interesting characters!
Book Info:

Published January 7th 2014 by Samhain Publishing, Ltd. |  The League of Rogues #1
The League of Rogues takes what they want—but have they taken on too much?
For too long Miss Emily Parr has been subject to the whims of her indebted uncle and the lecherous advances of his repulsive business partner. Her plan to be done with dominating men forever is simple—find herself a kind husband who will leave her to her books.
It seems an easy enough plan, until she is unexpectedly abducted by an incorrigible duke who hides a wounded spirit behind flashing green eyes.
Godric St. Laurent, Duke of Essex, spends countless nights at the club with his four best friends, and relishes the rakish reputation society has branded him with. He has no plans to marry anytime soon—if ever. But when he kidnaps an embezzler's niece, the difficult debutante's blend of sweetness and sharp tongue make him desperate for the one thing he swears he never wanted: love.
Yet as they surrender to passion, danger lurks in Godric's shadowed past, waiting for him to drop his guard—and rob him of the woman he can't live without.
Product Warnings:
This novel includes a lady who refuses to stay kidnapped, a devilish duke with a dark past, and an assortment of charming rogues who have no idea what they've gotten themselves into.