The Boss: Book Six by Cari Quinn and Taryn Elliott is the final installment to this engaging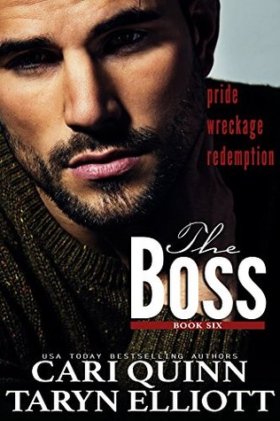 series. I really enjoyed the previous five books and couldn't wait to find out if Grace and Blake were going to get their happy ending and to find out what secrets Blake was hiding. Book six, contains both, Grace and Blake's point of view, which is needed and it picks up right where the previous book ended.
Grace is trying to figure out why her grandma thinks she's in danger and trying to uncover, the diary she left. Eventually, all her questions are answered, but finding the answers isn't easy and comes at a price.
The heat and passion between Blake and Grace is still strong and fiery, even as the secrets unfold. All the answers you've begged for will be answered in this book. Not everything is how it seems and once the secrets are out, there is no going back. Grace's world is about to change, and so is her relationship with Blake.
"You walked in and your first words to me were lies. And I didn't care, because even a lie from you was more than I'd ever hoped for."
There is a lot going on in this book, more than the others had and you really have to pay attention, so you don't miss what's happening. There are so many secrets and lies that come to light, and I'm pretty good at figuring out what usually happens, as I read along, but there was no way I could have guessed all the things that went down. The story is fast-paced and keeps you guessing. My only issue with the story, is that it felt rushed. I would have liked the ending to be more than what it was, but overall the story was satisfying.
If you've read the previous books in this series, then this is a must-read! Do not read this if you haven't read the other books!

Book Info:

Publication: July 1st 2016 | Rainbow Rage Publishing | The Boss #6
She doesn't know how bad I'm willing to be…
For years, Grace Copeland was the one woman I couldn't have. Now she's mine.
Mine to possess. Mine to protect.
Mine to kill for.
He doesn't realize how far from good I've come…
Blake Carson was first my nemesis, then my boss, and now my lover. He's determined to shield me from the threat that surrounds us, closer than we could ever guess.
But I'm no one's damsel, and I might be going down…but I won't go down alone.
This time, when we fight, we'll fight back to back—or not at all. No matter the consequences.
Win, lose, love, death. Whatever it takes.