In Resisting the Rancher (Hills of Texas #2) by Kadie Scott, when her father gives her an ultimatum to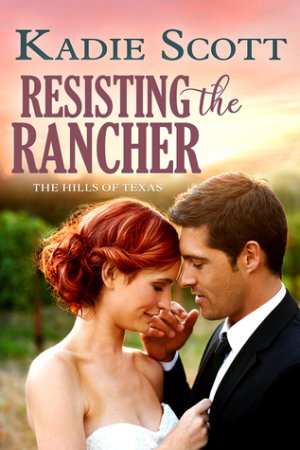 do with her future, Rusty Walker realizes it's time to take control on her life. Moving out and taking a job with Williams 'Will' Hill is the perfect opportunity for her to work out what she wants. However, she never imagined Will would make her an offer she can't refuse in order to help them both get what they want. The exchange being that Rusty will inherit her family ranch for helping Will make his new business venture a success. Yet, the more time Rusty and Will spend together, the more the lines begin to blur with their arrangement and Will finds himself wanting to make something more of their marriage of convenience. Will he be able to convince Rusty to give him a chance for real or will she walk away from her chance at happiness because she's afraid of getting hurt?
Will gave her a sideways look. "Ms. Walker, I do believe you're flirting with me."
She laughed, the warmth of the sound washing over him and adding to the tension coiling in his belly. "Don't let it go to your head, Mr. Hill. I must be tired."
He cocked his head, sure she hadn't meant that as a challenge. But still… "Why don't we put that to the test?" Holy hell. What was it about this woman that had him acting completely out of character?
Ms. Scott has done it again in writing an absolutely enthralling, fast-paced, wonderful story that hooked me from beginning to end and encompasses a hot cowboy determined to win over a feisty heroine that finds it hard to trust. Will the hero be able to win Rusty over? However, it was from the moment the hero and heroine come face-to-face for the first time where this story really takes off, as it's palpable Rusty is going to be a challenge for Will. Is the hero up to the challenge the heroine gives him?
As for the dialogue, it was intense due to the main characters back stories, especially that of the heroine and I could understand why she acts the way she does because her dad has never treated her how a dad should treat a daughter. Will she ever be good enough for her father? Will her determination to break away from everything she's ever known finally set Rusty free? Moreover, I really enjoyed the heroine's strength, courage, stubbornness, independence and that she's finally living her life for her instead of continuing to believe her father will ever think she's good enough. I also liked the challenge she provided the hero because things tend to come easily for Will. He has a great family and he's finally starting to make a name for himself when it comes to his business.
While the hero, he's confident, charming, hard-working and I liked how determined he was to win the heroine over. I also liked how welcoming his family were to Rusty and how good of a sense of humor they have, especially when it comes to the shirts the family buy him. Certainly, the sayings were amusing. Will the shirts help him have a better sense of humor? I also liked how willing the hero was to help the heroine get what she wants when it comes to her family property. Why does her father have to be such a hard-a**?
"So you like funny T-shirts?" he asked.
She slowly blinked, trying to track with the topic, and he waved at her PJ top. "Oh," she said. "I have a few, I guess. Not as many as you apparently."
He flicked her a half-sheepish, half-amused smile. "You noticed those, huh?"
"Kinda hard to miss." She waved at today's example which read "Sprinkles are for winners."
Overall, Ms. Scott has delivered a fantastic read in this second book of her Hills of Texas series where the chemistry between this couple was powerful and instant from the moment they come face-to-face; the romance was nicely-detailed and had me loving these two together because Will is good for Rusty since she's never had anyone care for her the way he does; and the ending warmed my heart because of what Rusty does in order to show Will that she trusts him. However, it was the epilogue that wrapped this story up perfectly because Rusty and Will are so good together and deserve every bit of happiness they've found together. I would recommend Resisting the Rancher by Kadie Scott, if you enjoy the opposites attract trope, hot cowboys or books by authors Jennifer Faye, Eve Gaddy, Jane Porter and Lynne Marshall.
Book Info:

Publication: July 30th, 2018 | Tule Publishing | Hills of Texas #2
Rusty Walker has spent her entire life trying to earn her tough, ranching father's respect and approval by learning the business inside and out. But now her uncompromising parent has decreed she must marry if she wants to inherit. Worse, her husband has to be someone who can help her run the business. As if she needs it!
Williams Hill kissed Rusty in a bar in an act of temporary insanity, and lost his heart to her on the spot. Despite the complications to his own rodeo stock business, he agrees to marry the feisty red-head, hoping to woo her once they're hitched. But she only views him with suspicion and resentment.
Can this soft-spoken Texas cowboy convince his proud wife, who's never known unconditional love, that she is everything he wants?