Reunited on Dragonfly Lane by Annie Rains is the seventh book in the Sweetwater Springs series.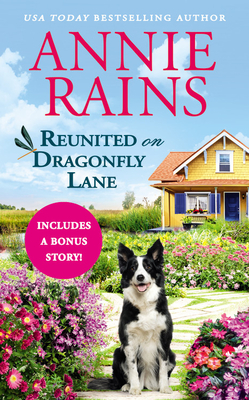 While I haven't read the entire series or even a lot of books by this author, I have become a huge fan after reading this book. The books I have read by Annie Rains have been delightful, heartwarming romances and I've enjoyed every one of them.
Sophie Daniels and Chase Lewis were each other's first love but they broke up at the end of high school when Sophie had an accident. She had decided to go mountain climbing by herself that summer and when she fell, she was trapped and stranded on the mountain for thirty-six hours. Her leg had been severely damaged, and it took her months to finally be able to walk again. She knew she would never be able to do all the physical things they loved to do together, and she didn't want him to give up the things he loved. Now Chase is back in town and she had been successful in avoiding him until the night of her friend's wedding. On the way there she accidentally hits the dog Comet and Chase is the only veterinarian in town so she couldn't avoid him.
Foster homes were limited with Comet's broken leg and Chase sees the perfect opportunity to spend time with Sophie. He convinces her to foster Comet with his help since she had never had a dog before. Sophie wants a second chance with Chase but she's not sure if she can get over her fears and her anger at all she lost with the accident.
Chase had loved Sophie and kept trying to convince her of his love but after being turned down and pushed away so many times he eventually gave up on their relationship. After his brother goes to prison, he returns to Sweetwater Springs to help his sister-in-law and nephew. His heart had never healed from Sophie so when he sees the possibility of a second chance for them, he takes it. Now he must make her understand she won't hold him back and that they can still do all the things they love together even with her physical limitations.
This second chance romance story captures your heart in the beginning and leaves you smiling at the end. The characters are charming and sincere with believable concerns. The author draws you into her stories so easily and you feel as if you are part of it. This book also contains a bonus novella that is just as charming as all the author's stories. I look forward to reading the previous books in the series and the ones to come to this small town.
Book Info:

Publication: January 26th 2021 | Forever | Sweetwater Springs Book 7
Boutique owner Sophie Daniels certainly isn't looking to adopt a dog the day veterinarian Chase Lewis convinces her to take in Comet. A rambunctious puppy with a broken leg may not be the best choice for a first-time pet owner. And house calls from the handsome doctor — her high school sweetheart who's just moved back to Sweetwater Springs — may not be the best choice for her heart either.
Chase has come home to help his nephew but finds that he's forgotten just how much he enjoys small-town life. However, sooner or later, he's going to have to face the past and his unresolved feelings for Sophie. Now that Comet needs both their help, Chase is going to let the four-legged matchmaker work his canine magic. Then Chase will prove to Sophie that first love is even better the second time around.