Be My Valentine by R.J. Groves: Harley's works as a seamstress at a bridal boutique and she loves see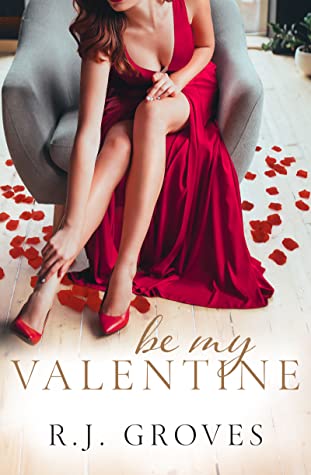 people getting the happily ever after, after all she loves the whole idea of love except she has really sucky luck in the love department. Already pretty set that this going to be yet another year alone Harley definitely didn't factor in her best friends hot sailor brother making all her dreams come true.
Joey loves his life on the water, he has always loved his job but something has changed and it just doesn't seem to be enough for him anymore. And that change came in the form of his sisters best friend, all it took was one meeting and Harley changed his entire world, no matter how hard he has tried to forget about her, he just couldn't seem to get her out of his mind so much so that Joey decides to do something about it. With a week off Joey plans on making his feelings known but will he be able to win over the skittish seamstress?
This was such a cute read! This was a fast read that absolutely melted my heart, I loved following Joey and Harley move from just a cute crush to full head over heels love. I loved that even though she had been hurt before Harley still put her heart out on the line and gave it a go with a guy that might no always be there. This was definitely a short read that packed a punch and showed that to feel true love sometimes you have to put your heart on the line.
Who doesn't love a cute best friends brother romance and this one was just perfect. Be My Valentine had the cute insta love/Hallmark feeling to it. I would definitely recommend reading this book, also do check out the first book in this series!

Book Info:

Publication: February 4th 2021 | Escape Publishing | The Bridal Shop #2
A seamstress. A naval officer. An impossible decision.
Harley Smith has always been unlucky in love, and this year is no different. Even if she can't get her best friend's brother out of her head. It's been almost a year, and with Valentine's Day approaching and no date in sight, perhaps it's time to stop holding out hope on her dreams. Maybe she should make her own happily ever after…
Joey Gray is a sailor through and through. He's been hurt before, and his job has become the only thing he can truly count on. But then he met his sister's best friend – the woman who has filled his dreams for months on end, regardless of how much he has tried to forget her. Now his career isn't as fulfilling as it once was, and he knows who's responsible. He needs to see her again. And what better day to tell her how he feels than on her birthday-Valentine's Day?
But is one week enough time to figure out what they have?