Her Kind of Trouble by Sarah Mayberry: Starts ten years in the past, at a wedding. Specifically, the events around the wedding of Jodie Walker to Jason Anderson, which is where sister of the bride Vivian Walker meets and has a very hot limo encounter with the groom's brother, Seth Walker. Vivian, who at twenty-three is impetuous and still working at finding herself, finds herself drawn to Seth's James Dean vibe at the rehearsal dinner. Seth, warned off Vivian by his brother, who says he doesn't want to apologize for his "humpy-dog brother," is a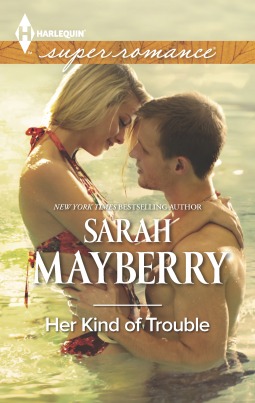 singer in a punk band and finds Vivian very attractive, for both her physical assets and her snappy lively conversation. At the wedding reception, they both have too much to drink, and end up in the aforementioned limo. Afterwards, Vivian tries to make it clear that this is just a one-off meaningless moment, and that she's not looking for anything permanent. Seth answers with:
He was silent for a long moment, his expression unreadable. "So, what, this was just one night of the best limo-monkey-sex ever, no strings attached?"

She couldn't tell if he was pissed or not. He didn't sound pissed, but there was something about the way he was holding himself that made her a little nervous.

"That's another way of putting it."

He grinned hugely, his posture and expression relaxing. "I knew you were my kind of girl when I met you, Vivian Walker."
Ten years later, much has changed. Vivian, who had studied fashion design, is just back home from years of working in Los Angeles, and is now a fashion stylist in business partnership with a photographer, and they are doing well. Seth, who gave up on the music business, owns and manages his own bar. Her sister Jodie, who now has two children with Jason, talks with her about a couple of things: that Seth is expecting a child with his former girlfriend Lola, and asks her to be named guardian in the will that Jason and her are having written. Vivian is thrilled. On the other hand, when Jason asks Seth about becoming co-guardian with Vivian, Seth is less than thrilled, and says that perhaps Vivian is not a good choice.
On the weekend there is a child's birthday party at Jodie and Jason's house, and Seth and Vivian meet up, and exchange conversational barbs. There is still a pull between them, and Vivian works to fight it, since they more or less related.
As always, she was hyperaware of everything she said and did while near him. He'd always had that affect on her, magnifying her self-awareness to almost painful levels. Probably that was the rampant sexual awareness that always seemed to be unleashed when they were within a few feet of one another.
After the party, she finds out that Seth did not think she was guardian material, and, incensed, she drives to his house to give him a piece of her mind. While there, Seth gets an important, and tragic, phone call, and this call drives the rest of the book.
The background characters are universally fantastic, three-dimensional, and add tremendously to the book. Seth and Vivian are very nicely fleshed-out, and they feel like real people with real problems that you could meet at a party or in the grocery store. They both have done lots of growing up, from irresponsible young adults to responsible, hardworking citizens, although much of the growing seems to have taken place off-screen in the ten intervening years. This book is about adjusting and adapting and getting past former knowledge and prejudices; initially all Vivian and Seth really have is great physical attraction and sexual chemistry, and they have to get to know each other as real people for their relationship to work. This is very well done.
Additionally, I think that it's also really important for readers to know that this book, for a romance, is genuinely sad in places, and that someone looking for a light pick-me-up may not necessarily find it here.
Overall, however, Her Kind of Trouble is a good read, with excellent characters and a nice level of emotional depth that is not always found in a genre romance.
Book Info:

Published April 1st 2014 by Harlequin Super Romance Series #1914
The moment Vivian Walker spies Seth Anderson she knows they're a match made in hedonistic pleasure. And they both agree their one night together is all about fun, not forever.
Now, years later, Seth remains a favorite memory. Surely the sizzling chemistry has faded, though, right? Apparently not. Because he's still sinfully attractive, and she likes the man he is. When he suddenly becomes a full-time dad to his newborn daughter, Vivian falls hard. Yet despite the responsibilities, he's not a good bet for commitment. And she needs to guard her heart before she gets into trouble!